Using base materials made of cannabis hemp fibers, most people would not expect the 8000Kicks footwear company to be founded by a Portuguese grandmother. But this eco-friendly label was begun with the unlikely pairing of co-founder Bernardo Carreira and his own grandmother Maria Otilia. She brought 50 years of textile experience to the company when Bernardo decided to co-create a hemp footwear company.
In business since 2018, 8000Kicks produces vegan shoes using nearly 50% renewable energy sources. 800Kicks is well known for its first design, the Explorer V2. Their first foray into ethical fashion happened courtesy of a wildly popular Kickstarter campaign that raised a quarter of a million dollars, allowing 8000Kicks to produce a big volume of their first shoe. We have also compiled a list of the best 8000Kicks hemp shoes.
Explorer V2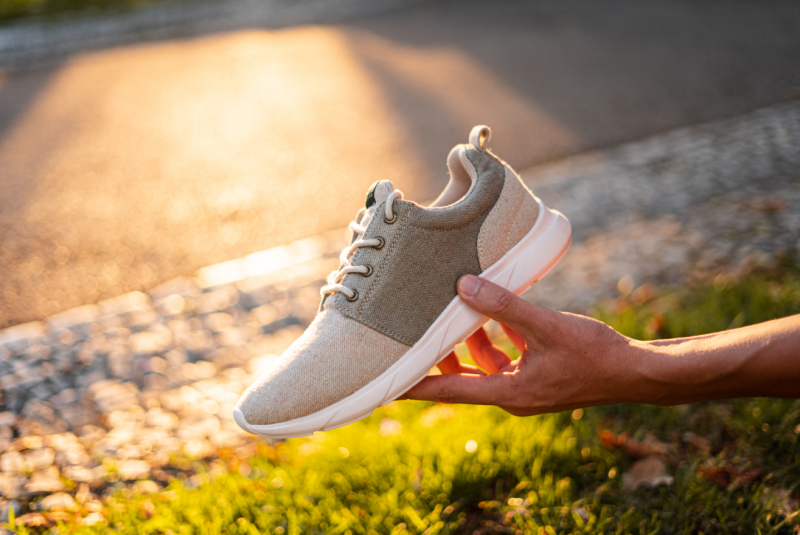 The signature footwear style of 8000Kicks, the Explorer V2 is made of cannabis hemp fibers and is super durable thanks to the hemp. A premium fabric that naturally requires less CO2 and leaves a smaller carbon footprint in production, cannabis hemp fibers are used in the uppers as well as the insole of this shoe. These vegan shoes have a double layer of waterproofing, proving that grandma's experience in the textile world contributed to the sustainability and popularity of 8000Kick's initial footwear offering.
As the company's first and most popular shoe, the Explorer V2 showed customers how organic materials could be used to produce beautiful, durable and environmentally friendly fashion. These minimalist shoes continue to be their most popular shoe because they are comfortable, 100% vegan and provide a long-lasting shoe for all kinds of activities. 
Everyday Hemp Backpack
In addition to vegan shoes, 8000Kicks is also known for its Everyday Hemp Backpack. This waterproof bag is made out of the same sustainable cannabis hemp fibers but is also widely popular for its creative, thoughtful design. Expandable to 30L, this multi-use backpack works equally well during the workweek as it does as a weekend gear bag used for hiking or camping.
Since the bag is also made with a smaller carbon footprint, just like the Explorer V2 and other products made with this material, its eco-friendly construction has earned it a following by those who intentionally choose ethical fashion. 
What is Hemp? 
This naturally sustainable fabric comes from the hemp plant, a variety of the Cannabis Sativa plant that only has negligible levels of THC. It grows into tall, fibrous stalks and is known to grow easily and without much additional water or any pesticides to encourage plant survival. As such, the hemp plant inherently absorbs CO2 from the atmosphere, leaving a small carbon footprint in both its cultivation as well as during the textile production process.
Since hemp requires a minimal amount of water to thrive, it is a sustainable premium fabric that is now widely used by ethical fashion designers around the world. The plant fibers are an excellent alternative to leather while also producing fibers that are three times stronger than cotton. This makes hemp perfect for use in products with heavy use like shoes, bags or clothing. When used in fabric construction, these fibers help to create products that are durable and cost-effective, as well as beautiful. 
Why Use Hemp? 
When woven into a fabric, these fibers are loved for being friendly to the environment while also being strong and beautiful. It is relatively inexpensive to produce as well. But the most popular reasons why we love it are because:
it has natural anti-microbial properties making it perfect for shoes and other surfaces that can get dirty easily

its tightly woven material makes the fabric UV-resistant, providing a layer of protection from the sun

it wears well, becoming softer and more comfortable after repeated use or wear

it is waterproof, adding to the flexibility of using the fabric in clothing and accessories
Sustainability
Since 8000Kicks focuses on sustainable practices, using hemp in the production of their products was a no-brainer. As a company, 8000Kicks uses factory partners that are actively increasing their use of renewable energy sources, fueling the corporate culture of minimizing the impact on the environment in every way they can.
As an ecologically minded company, 8000Kicks also furthers its sustainable philosophy by intentionally capturing CO2 production through tree planting and the creation of its hemp farms, aiming for a zero-carbon footprint for themselves.
Additionally, this unique, forward-thinking company co-created by Bernardo and his grandmother has dedicated its production to vegan products. This attention to all-vegan designs by 8000Kicks proves their commitment to sustainability in fashion design can not only contribute to a healthier, longer-lasting planet but that 8000Kicks can also produce gorgeous, well-designed products that all ages can enjoy and love.