The Poler Shaggy Napsack is a wearable sleeping bag made of a rip resistant nylon shell, plush sherpa lining, zippered arm slots, and an open bottom with a drawstring. It's an innovative trend in functional sleeping bag technology.
The company was launched by Portland-based photographer Benji Wagner in 2011. His dream was to create affordable, unique and well-designed camping gear made of high-quality materials. Poler provides functional gear as an alternative to the expensive, glossy options available at big brands stores.
how does the Poler Shaggy Napsack work?
The Poler Shaggy Napsack is designed with functionality in mind. It is engineered to to keep you warm without interrupting your mobility. The Napsack has two modes – walk and sleep. With the side zippers open, the Napsack transforms into a roomy, puffy trench coat. Use the drawstring at the bottom to raise the Napsack in walk mode. In order to use it as a sleeping bag zip up the arm zippers, lower the drawstring, and close the opening under your feet.
I love the sherpa lined interior of the Shaggy Napsack. The other models in this line do not have the sherpa interior, and are completely made of sleeping bag material.
Poler Shaggy Napsack Sizing
The Shaggy Napsack comes in four sizes, ranging from S to XL, and is cut narrowly. Although width is taken into account, the size is determined by height.
The manufacturer suggests going up a size if you intend to regularly use the napsack as a sleeping bag because of the drawstring closure at the bottom. If you want the bottom to be cinched up, size up so that you have enough room for your feet if your height is within 3 inches of the required height measurement.
Small/Extra Small – Fits up to 5′ 0″ tall, 23″ wide.
Medium – Fits up to 5′ 8″ tall, 28″ wide.
Large – Fits up to 6′ 3″ tall, 31″ wide. This size ensures that most people will have plenty of room at the bottom to fold over the drawstring closure and not risk feeling gusts of air while sleeping.
Extra Large – Fits up to 6′ 8″ tall, 37″ wide.
Poler Shaggy Napsack Care & Cleaning
Poler advises to hand wash the napsack in cold water with a mild detergent.
Rinse well, ensuring that all detergent and suds are removed.
Allow to air dry on a level surface, but not in direct sunshine.
You may give it a last puff by tossing it in the dryer for 20 minutes on air/lowest heat. To avoid clumping, use drier balls or tennis balls.
Poler shaggy Napsack pros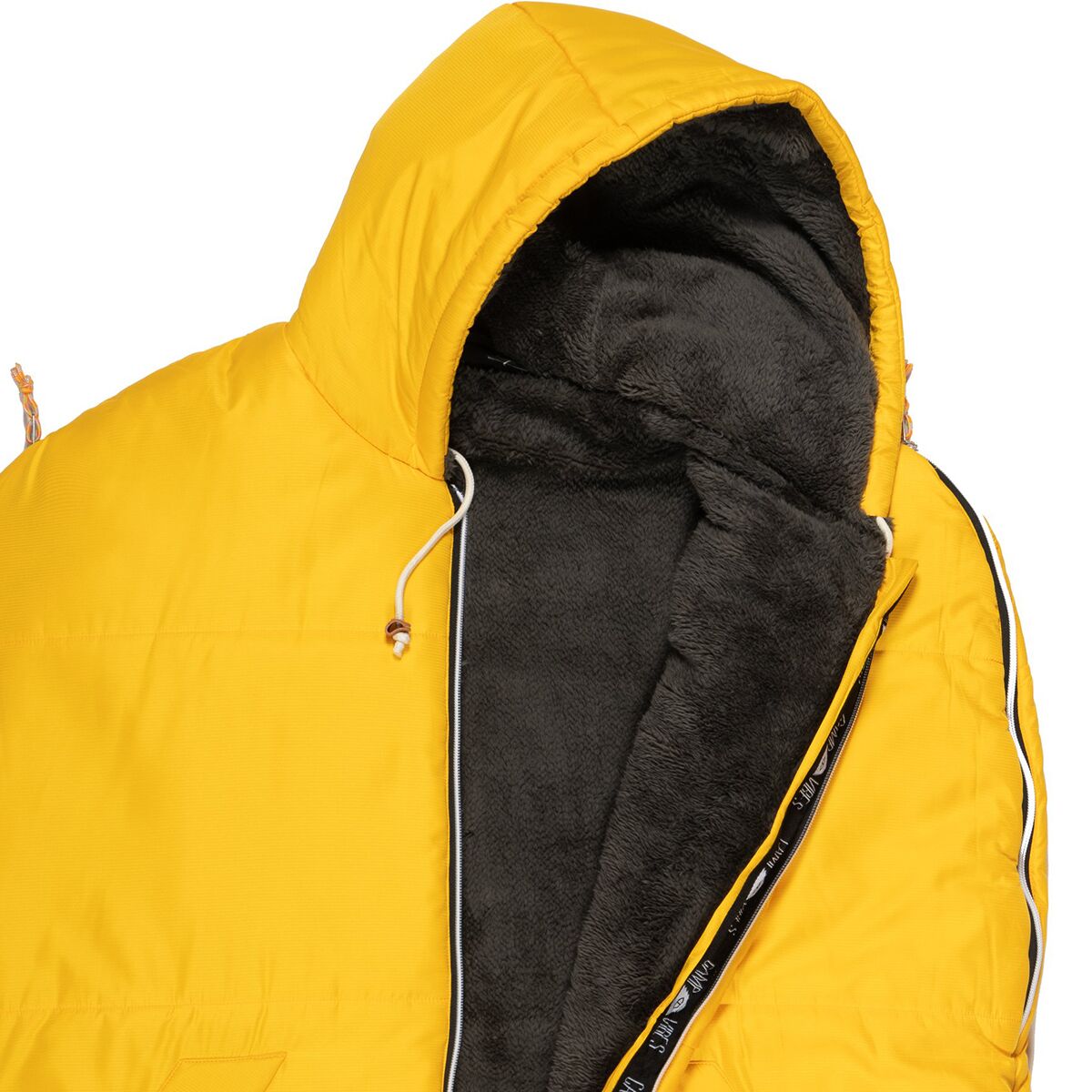 1. Cozy, warm insulation
The soft sherpa lining is what attracted me to the Poler. The napsack is also filled with a proprietary "Thermastuff" insulation, a 200-gram synthetic polyfill. The insulation is rated to 50 degrees.
---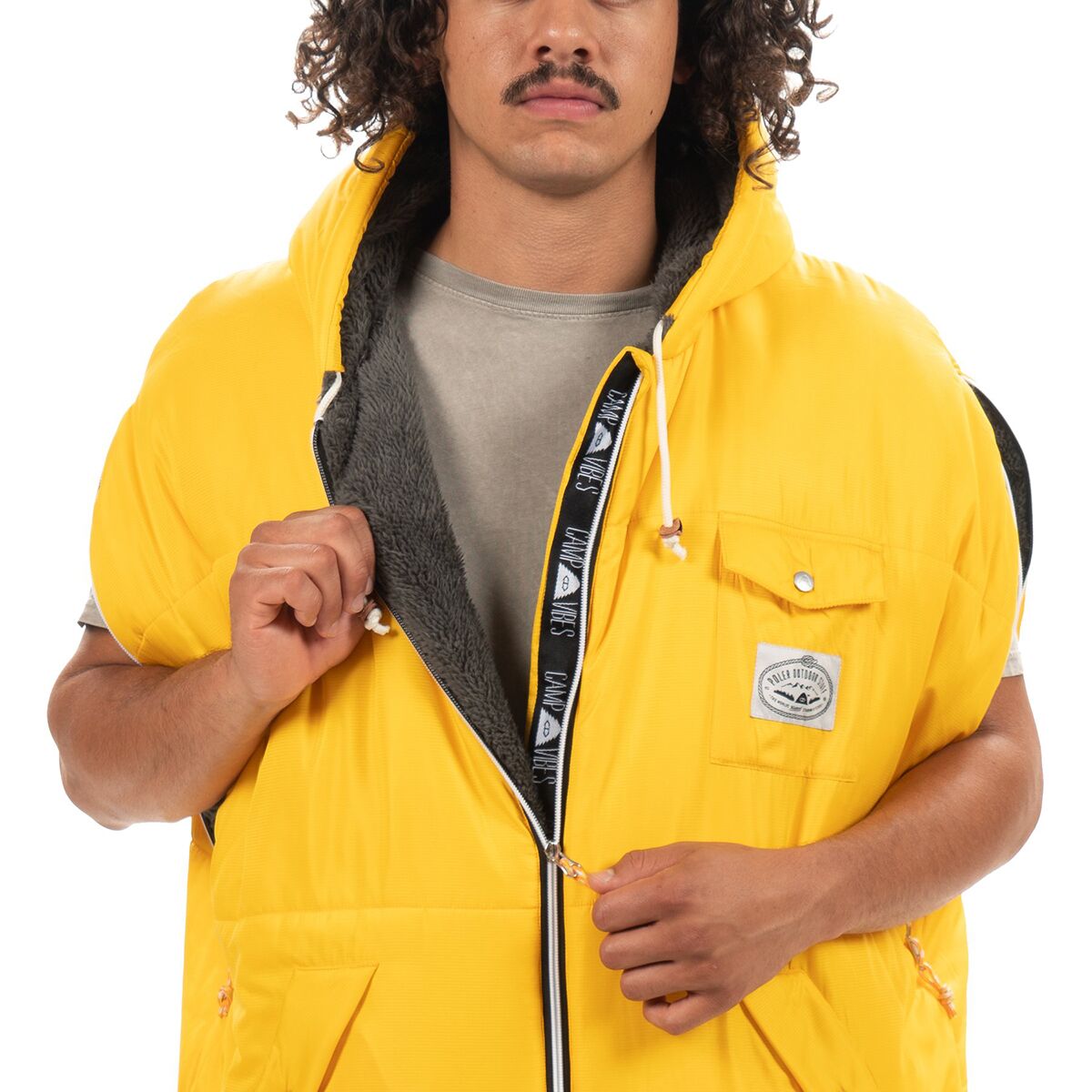 2. No Snag Zipper
The main zipper is equipped with a flap to prevent the sleeping bag fabric from becoming entangled in the teeth of the zipper. For anyone that's dealt with the pain and suffering of not being able to zip your sleeping bag because the zipper gets all snagged in the fabric – this is a godsend.
---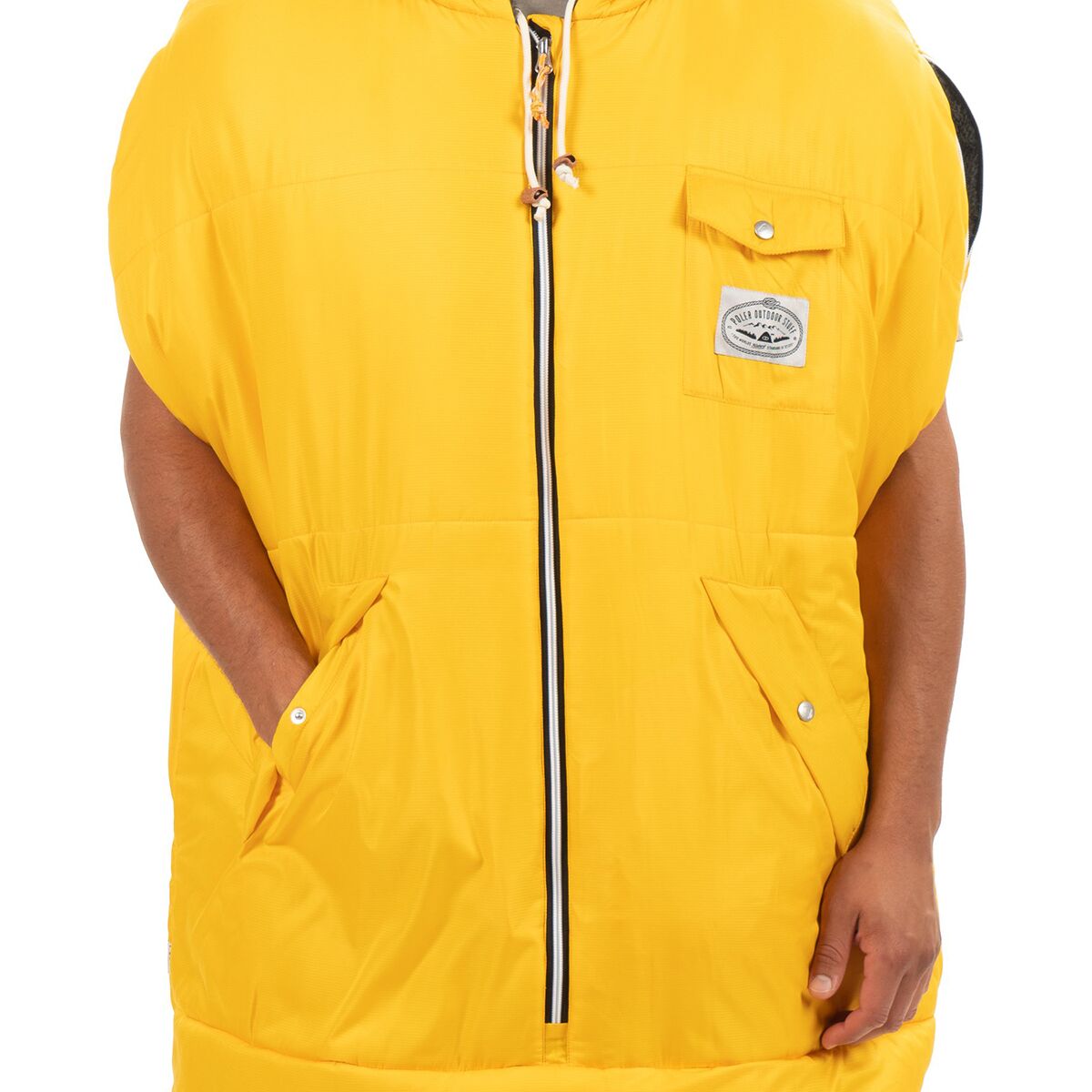 3. Hand warmers and storage pockets
The napsack has sherpa lined handwarmer pockets – another big plus for cold nights.
There are also two front snap pockets at the waist and breast pocket that can accommodate small items like a phone, wallet or car keys.
Poler shaggy Napsack cons
Weight – The Poler Shaggy Napsack weighs in at 3.5 pounds – heavy when compared to products like the Rumpl Poncho which weighs 2 pounds.

Not waterproof – The Poler Shaggy Napsack is not waterproof or DWR coated.
What activities is the Poler shaggy Napsack Best For?
Temperatures in ~50 degrees and above
Camping in dry weather environments
Activities that don't require lots of hiking / walking. At 3.5 pounds, the Poler Napsack is heavy for long distance hiking trips
If you like this product, check out the Rumpl Puffy Poncho.