DISCLAIMER: We use affiliate links on some products and sometimes receive a small commission on purchases.
This does not increase the price for you and helps us continue to run this blog. Thanks for your support!
Brands that make workout gear from recycled plastic
Fashion brands use recycled plastic as raw material for workout gear, including leggings, bags and shoes.  The plastic is collected from the ocean and transformed into synthetic material like polyester and nylon.
---
Joggers & Yoga Pants
---
GIRLFRIEND COLLECTIVE LEGGINGS MADE FROM RECYCLED PLASTIC
How many plastic bottles are recycled? One pair of compressive sustainable leggings = 25 post-consumer bottles; one compressive bra = 11 post-consumer bottles
Girlfriend Collective is all about being transparent about its ethics and values. The company has headquarters in Seattle, Washington, manufacturing its recycled clothing in Taiwan, Vietnam and Japan. The eco yoga brand's core factory is SA8000 certified. Girlfriend Collective's recycled fabric has an Oeko-Tex Standard 100 certification. The company uses eco-friendly methods throughout its manufacturing process, including managing the treatment of wastewater from its factories to reduce pollution.
The brand has developed a high-quality, luxurious line of ethical activewear that includes sustainable leggings, bike shorts, sports bras, dresses and accessories. These are made of 79% rPET and 21% spandex fabric. The athletic clothing is soft and supportive, allowing you to move freely whether you're working out or hanging out.
---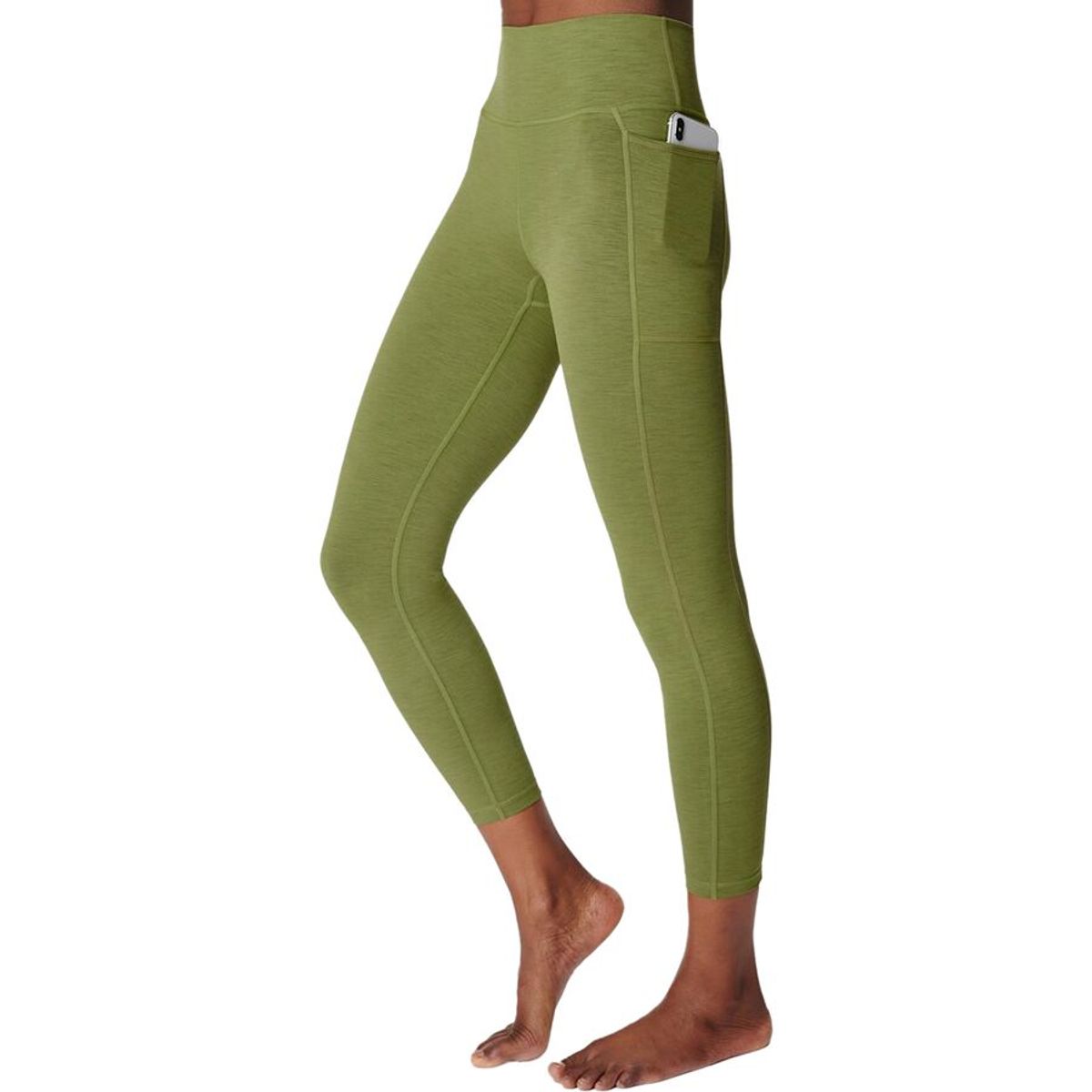 SWEATY BETTY YOGA LEGGINGS MADE FROM RECYCLED PLASTIC
How many plastic bottles are recycled? Each pair of leggings is made from 17 recycled plastic bottles, 74% recycled polyester, 26% elastane.
Headquartered in London, U.K. and with retail operations in Europe, US and Australia, Sweaty Betty has been a leader in women's sustainable athletic wear since 1998.
---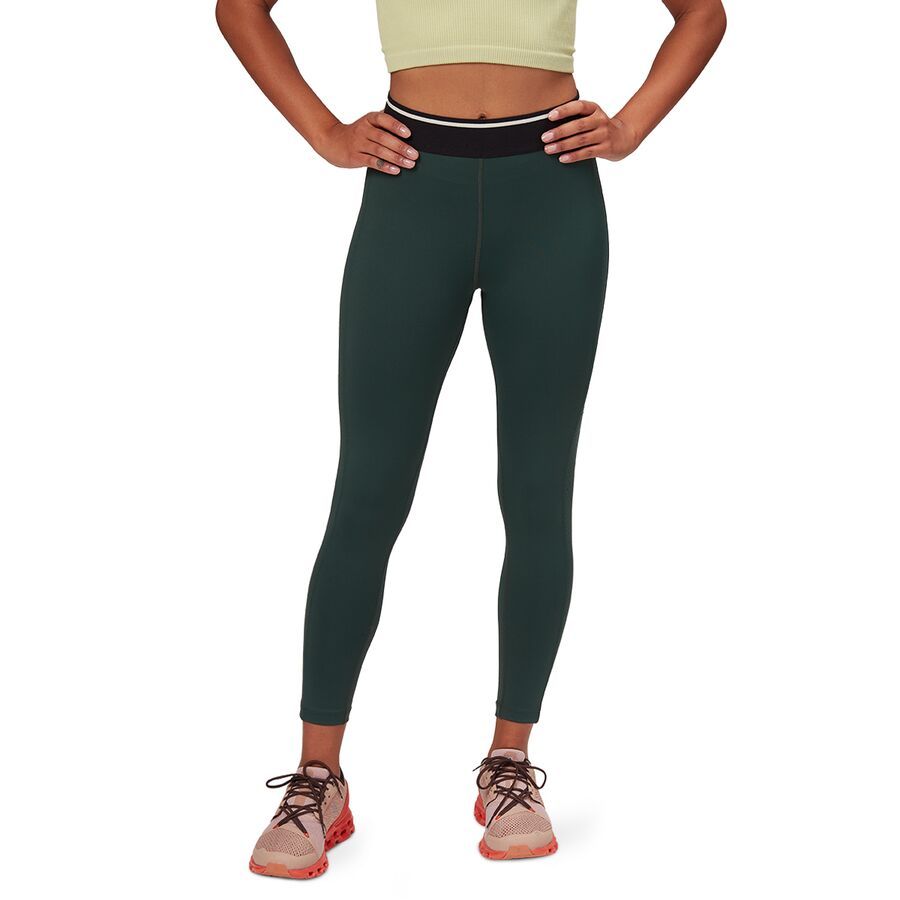 SPLIT59 PHOENIX LEGGINGS MADE FROM RECYCLED PLASTIC
How many plastic bottles are recycled? Unspecified, but the each pair of leggings is made from 100% recycled fibers, including recycled polyester. Split59's propietary Techflex material is 78% recycled polyester, 22% spandex.
Based in Los Angeles, Split59 designs functional, sustainable and retro-inspired workout clothing for women.
---
OUTERKNOWN HIGHTIDE SWEATPANTS
How many plastic bottles are recycled? Unspecified, each jogger is made with 46% recycled polyester generated from 100% post-consumer waste.
Founded by pro surfer Kelly Slater, Outerknown is an innovative slow fashion company that is completely rethinking traditional fashion. All of their products are created using recycled and organic fibers, with the majority of their production done in Fair Trade certified factories.
---
How many plastic bottles are recycled? Each jogger is created using 14% Recycled Polyester made from plastic, 80% organic cotton and 5% Spandex.
TenTree's corporate offices are based in Canada, and its manufacturing locations are based in China.
---
SUMMERSALT LEGGINGS MADE FROM RECYCLED PLASTIC
How much plastic is recycled? One pair of high-rise bike shorts = 4 to 5 plastic bottles; One pair of high-rise pants = 12 plastic bottles
Summersalt aims to create eco clothing and travel essentials that are as functional as they are fashionable. The company, which focuses on using Earth-friendly practices, works with long-term manufacturing partners. All of them have certifications that recognize their commitment to ethical and sustainable practices.
Summersalt is headquartered in St. Louis, MO, but has factories in Asia. Most of its factories have a Worldwide Responsible Accredited Production certification or equivalent. Some have a Global Organic Textile Standard or Global Recycled Standard certification.
The company's swimwear is created from post-consumer materials, including fishing nets that are saved from our oceans. It is made from 78% recycled polyamide and 22% Lycra. Summersalt's activewear collection uses 80% rPET and 20% Elastane in every bike short, legging and sports bra. This material offers gentle compression, moisture-wicking properties and four-way stretch for maneuverability.
---
INDIGO LUNA LEGGINGS MADE FROM RECYCLED PLASTIC
How many plastic bottles are recycled? One pair of yoga leggings = 10 to 12 recycled plastic bottles
Indigo Luna offers athletic clothing that is handmade by skilled artisans in Bali and Indonesia. The eco yoga brand, which is based in Torquay, Australia, is committed to run its operations without exploiting people, animals or the environment. Indigo Luna supports slow fashion, meticulously crafting its items for the ultimate quality control.
Historically, the company has made natural fiber workout clothes from plant-based fibers and dyes. The brand has recently begun working with ECONYL, fashioning swimwear from fibers that are made from nylon waste, such as old carpets and discarded fishing nets. Its sustainable leggings are crafted from 84% REPREVE, an rPET fabric that uses recycled ocean waste, and 16% Spandex. These lightweight yoga pants are breathable and moisture-resistant. They feature gorgeous batik vegetable dye prints and a comfortable silhouette.
---
WANDERLUST AND WILDHEARTS LEGGINGS MADE FROM RECYCLED PLASTIC
How many plastic bottles are recycled? One pair of pants = 25 recycled plastic bottles
Wanderlust and Wildhearts is a clothing and accessories eco-boutique that supports ethical labor and manufacturing practices. The company is headquartered in Washington. It imports many fair trade brands and creates its own designs in the U.S. The company's proprietary items are not certified fair trade brands because many of them are produced domestically. Still, Wanderlust and Wildhearts develops relationships with its vendors and artisans, buying directly from the source and paying fair wages.
The yoga pants, travel skirts and face masks are made from 79% rPET and 21% Spandex. They have a suede-like brushed finish that feels like a cloud on your skin. The four-way stretch fits every body type while retaining its shape, and the seamless construction reduces uncomfortable pressure points. These items are designed to be worn in and out of the water.
---
YOGA DEMOCRACY LEGGINGS MADE FROM RECYCLED PLASTIC
How many plastic bottles are recycled? One pair of leggings = 13 recycled plastic bottles
Yoga Democracy is a female-owned business with a mission to provide sustainable sportswear that supports every aspect of the yoga lifestyle. That means finding harmony throughout the outer and inner worlds.
The athletic clothing is made in-house at the Arizona headquarters. The entire process is designed to minimize waste and environmental impact. Its fabric is imported from Italy and rated Standard 100 by Oeko-Tex.
Yoga Democracy strives to make 95% of its products from recycled materials. Its fabrics are made from plastic bottles and fishing nets. Full and cropped pants and Joey shorts are manufactured from 79% rPET and 21% Spandex. They also use a water-free dye process, which reduces waste. The athletic clothing has the same feel as a swimsuit and can be worn in chlorinated pools or the ocean.
---
TEEKI LEGGINGS MADE FROM RECYCLED PLASTIC
How many plastic bottles are recycled? One pair of pants = 18 to 30 bottles
Teeki is an environmentally friendly company with a quirky vibe. It's located in Los Angeles and known for its high-performance, lively activewear that's just as fun to play in as it is to work out in.
The company refers to its leggings as hot pants. They're silky yoga pants that are friendly to your body and the earth. They were designed to be lightweight and breathable for hot yoga practices. The fabric is made from 79% rPET and 21% Spandex, and the hot pants are made using a process that prevents chemical run-off.
---
COLORADO THREADS LEGGINGS MADE FROM RECYCLED PLASTIC
How many plastic bottles are recycled? The signature fabric is created from 79% water bottles and 21% Spandex.
Colorado Threads makes athletic clothing for women and kids. Its products are sustainably made by its Denver, Colorado team.
Colorado Thread's sustainable material is knitted into a medium-weight fabric that's stretchy enough to move with you and strong enough to hold everything in. The garments are printed using a sublimation process, which fuses the dye to the fibers so that it won't fade or crack.
---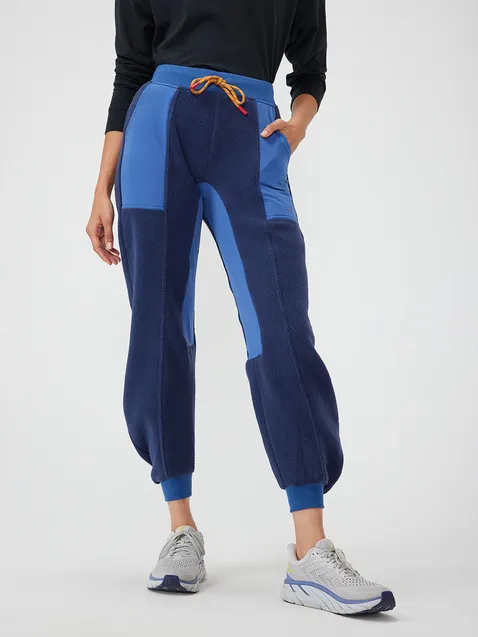 OUTDOOR VOICES SWEATPANTS MADE FROM RECYCLED PLASTIC
How many plastic bottles are recycled? The company does not detail how many recycled plastic bottles are used to create each individual piece of clothing, however do they state that their fabric is made of 86% rPET plastic and 14% Spandex.
Outdoor Voices wants to preserve the world as your playground and outfit you while you play. The Austin-based company promotes longevity, creating durable items that will last for years instead of being tossed in landfills. It also focuses on circularity, working on solutions to get more out of its products through upcycling, repurposing or repairing them.
The brand fosters sustainability through every aspect of its operations and has partnerships with eco-conscious organizations to drive awareness surrounding sustainable practices.
Outdoor Voices offers athletic clothing made from a variety of rPET fabrics, including RecPoly. This material is ideal for working out because it dries quickly and is anti-microbial. This company uses it to make skirts, shorts and pants that are looser than many yoga-style pants.
This brand is also redeveloping its CloudKnit and Sweatee fabrics to utilize rPET. CloudKnit is Bluesign certified, and it's insanely soft and stretchy. Sweatee is a moisture-wicking mesh that's perfect for intense exercise. Outdoor Voices has a goal of using more Bluesign certified fabrics as well.
---
WOLVEN LEGGINGS MADE FROM RECYCLED PLASTIC
How many plastic bottles are recycled? One pair of pants = approximately 26 plastic bottles.
Wolven cares about wellness, the planet and community. Kiran Jade, the company's founder and CEO, has combined her fascination with fabric with her appreciation for diversity and sustainability. In addition to using fabric made from recycled polyester, Wolven invests in organizations that offset its emissions. It is also developing procedures to reduce its carbon footprint. The company is Climate Neutral certified and complies with the Global Recycled Standard.
The recycled clothing brand inspires full expression through its colorful prints. Many of its garments are made from 84% Oeko-Tex certified rPET and 16% Spandex. In addition to their ultra-soft feel and odor-resistant benefits, these pants have functional pockets and a comfortable crossover waistband. You can find plenty of other styles in the same fabric, including unique tops, convertible joggers and high-waisted shorts.
---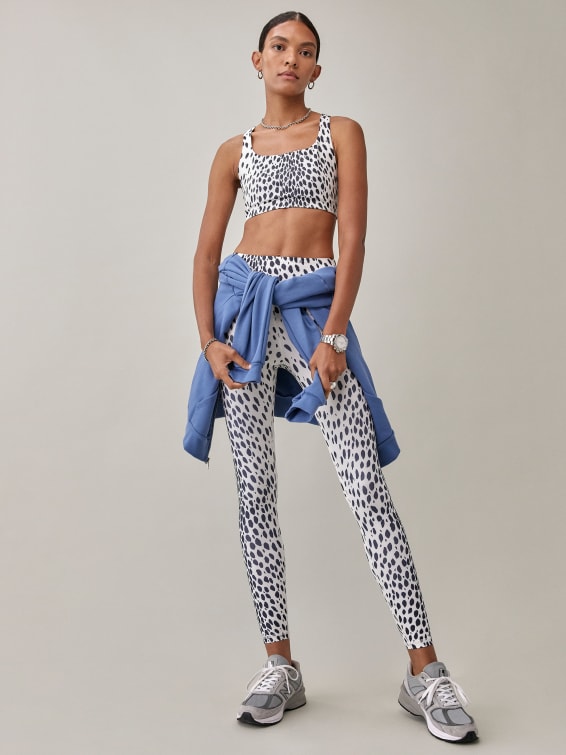 How many plastic bottles are recycled? EcoMove high-rise yoga pants and jumpsuits leggings, sports bras, dresses and skirts are made from 79% rPET and 21% Spandex and each save 10 pounds of carbon dioxide and 24 gallons of water.
Ref Active is a line of sustainable sportswear created by Reformation. The company has always been passionate about upcycled clothing. It began in 2009 as a vintage and recycled clothing shop. Now, the company is one of the workout clothes brands that manufacture their own designs. Like many sustainable clothing brands, its goal is to minimize its impact on the environment and maximize its positive influence on society.
The company makes most of its recycled clothing and natural fiber workout clothes in its Los Angeles factory and partners with other sustainable factories. Its dyeing facilities are Bluesign certified, and its fabrics comply with the Oeko-Tex Standard 100.
All of Reformation Active's materials must meet the brand's sustainability standards. Seventy-five percent of its fabrics are made from natural, renewable, plant-based fibers, almost all-natural fibers or recycled fibers.
Its California stores are Green Business certified. Reformation is also a Bluesign System Partner and participating company in the Fair Labor Association.
---
YOGI YOGA WEAR MADE FROM RECYCLED PLASTIC
Yogi Yoga Wear is part of the REPREVE network, which is an organization that provides recycled polyester fibers to athletic and apparel brands.
---
GROCERIES APPAREL MADE FROM RECYCLED PLASTIC
How many plastic bottles are recycled? The fabric is created from 82% rPET plastic and 18% Spandex. The company also creates fabric from discarded coffee grounds and vegetables.
When you shop at Groceries Apparel, you can browse by ingredient. You've probably never intentionally bought a shirt made with coffee grounds or carrot tops before. One of the signature ingredients is rPET, but the sustainable sportswear company also makes natural fiber workout clothes. The fabrics are colored with vegetable dyes, which is where some of the other grocery ingredients come into play.
Groceries Apparel makes its garments in its Los Angeles factory. In doing so, it is able to closely regulate quality and ethical practices. It supports small farms, living wages and fair treatment across the supply chain.
The athletic clothing offer natural UV protection and helps you regulate your temperature. Other products, such as this indigo tie-dye sweatshirt, combine rPET with cotton.
---
Shoes and Sneakers
Recycled PET is perfect for sneakers because it's supportive, stretchy and moisture-resistant. It can help expel sweat and protect your feet from the elements. Recycled shoes make the most of this material and are available from major brands.
---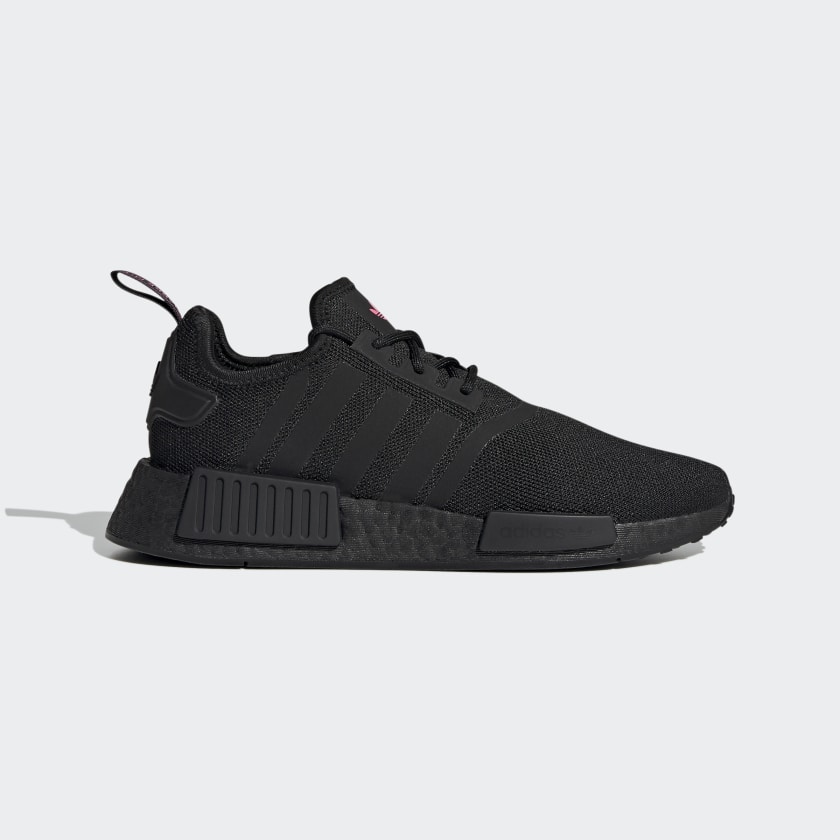 ADIDAS X PARLEY SNEAKERS MADE FROM RECYCLED PLASTIC
How many plastic bottles are recycled? The Primablue line of shoe upper sole is made of 75% recycled polyester yarn.
Did you know that Adidas has shoes made from recycled ocean plastic? The company, which has its global headquarters in Germany, has partnered with Parley for the Oceans, a group that seeks to raise awareness about how to protect the oceans. Adidas has become one of the leadingBrands that make workout gear from recycled plastic.
Through their collaboration, Adidas x Parley works to collect discarded water bottles from beaches and seaside communities. It facilitates the development of Parley Ocean Plastic, a trademarked rPET yarn that is used in Adidas Parley products.
The company has goals for managing its environmental impact, conducting compliance audits and publishing Green Company Performance Analyses regularly. Adidas works with suppliers that have an ISO 14001 certification to reduce its negative impact on the planet.
Adidas X Parley shoes made from recycled ocean plastic have replaced the petroleum-based polyester in the mesh uppers with Parley for the Oceans recycled textile. The company has also launched a line of clothing that contains the same fiber.
---
NOTHING NEW SNEAKERS MADE FROM RECYCLED PLASTIC
How many plastic bottles are recycled? The shoe's upper sole, laces and labels are made from 100% rPET with Global Recycle Standard certification. The bindings are made from recycled cotton, and the heel counters are developed from recycled fishing nets.
Nothing New features extraordinary recycled shoes made from eco-friendly materials. It offers sneakers in a laid-back, minimalistic style. The company does not have a headquarters, but most of its team lives in New York, NY. Its BetterCanvas sneakers are made in China, where most of the world's recyclable plastic ends up. Keeping production close to the raw materials reduces the brand's carbon footprint.
When it's time to retire your shoes, don't discard them. Return them to Nothing New for a $20 credit toward a new pair.
---
CONVERSE RENEW SNEAKERS FROM RECYCLED PLASTIC 
How many plastic bottles are recycled? The sneaker knit uppers are made from 75% recycled polyester, and the foam sole is made of 12% recycled rubber scraps.
Converse is rethinking waste with its Renew line of recycled shoes. The traditional Converse icons are now being made with rPET and other sustainable materials, such as recycled rubber and upcycled fabrics.
Converse has consistently evolved its designs and processes. The brand is committed to creating a positive social and environmental impact. Its headquarters in Boston, MA, is located in a LEED-certified building. The company has implemented strategies for minimizing waste and supporting eco-friendly practices.
Renew Canvas looks and feels like traditional canvas. However, the fabric is made from 100% recycled plastic water bottles.
---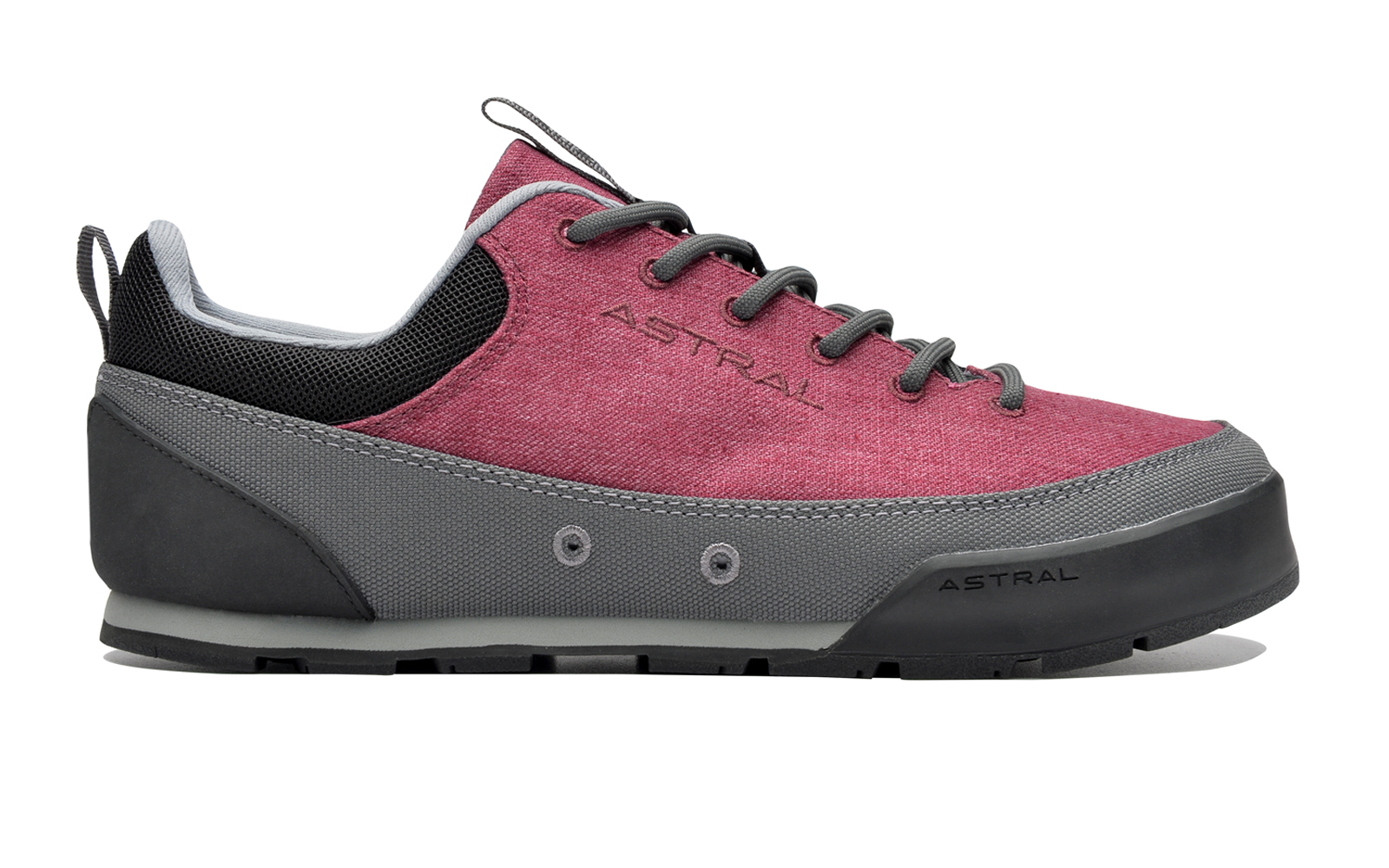 ASTRAL SNEAKERS MADE FROM RECYCLED PLASTIC
How many plastic bottles are recycled? Unspecified
Astral footwear produces high-performance recycled shoes that are designed for outdoor adventures. The brand was founded by a biodynamic farmer who wanted to combine his passion for sustainable farming with his love of nature.
The company operates from a facility in Asheville, NC. Most of its products are manufactured in Vietnam and China.
Astral has developed award-winning trail and hiking shoes as well as PVC-free lifejackets. The recycled shoes are amphibious, functioning just as well on land as they do in water.
---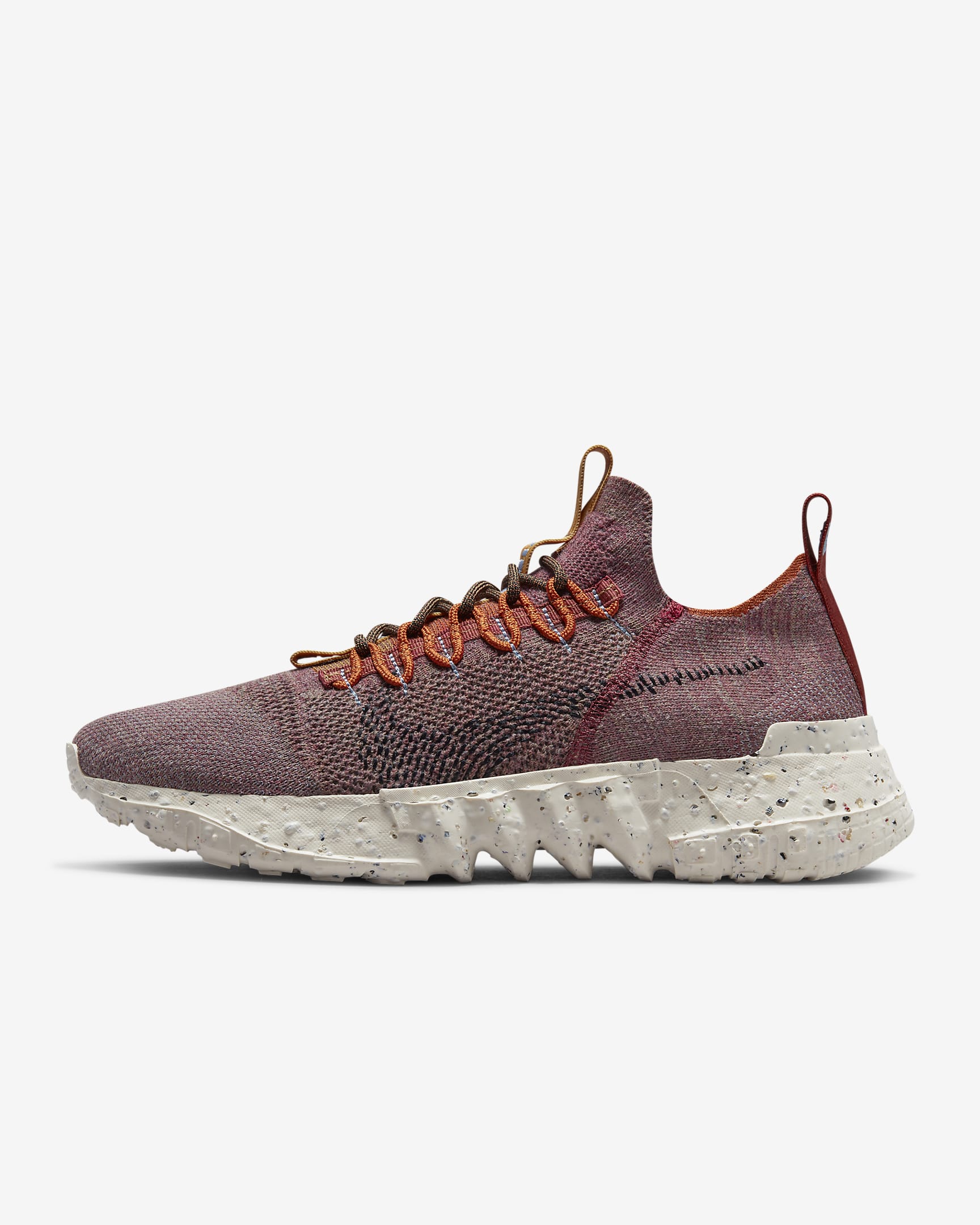 NIKE FLYKNIT SNEAKERS MADE FROM RECYCLED PLASTIC
How many plastic bottles are recycled? Nike has saved more than 4 million bottles from landfills.
As part of Nike's commitment to zero waste, the company aims to reuse as many materials as possible. Waste reduction practices are implemented in Nike's offices, distribution centers and 525 factories, which are spread throughout 41 countries.
Nike is a member of the Sustainable Apparel Coalition and certified in the Fair Labor Association Workplace Code of Conduct.
Nike uses a Materials Sustainability Index score to minimize the amount of energy consumed and waste produced during manufacturing. The brand is even making recycled shoes. Flyknit technology allows uppers to be made from yarn instead of fabric. Nike uses 100% recycled polyester in its Flyknit uppers.
---
ETNIES BLOOM SNEAKERS MADE FROM RECYCLED PLASTIC
How many plastic bottles are recycled? Unspecified
Sole Technology, Inc., the company that created etnies, stands for sustainability. The California-based company not only plants a tree when select styles are purchased but also makes vegan shoes. All of etnies' manufacturers are required to sign a code of conduct, which protects workers from forced labor and other unethical practices.
The Bloom Collection by the vegan clothing brand is designed with a plant-based insole, which is made from algae biomass. The uppers are made with bamboo carbon fiber and organic cotton. The outsole is molded from 20% recycled rubber, and the laces are made from rPET.
---
Bags
Recycled PET can be used for more than recycled clothing. It makes excellent ethical bags because it's durable, water-resistant and easy to clean. These recycled bag brands help keep waste out of our landfills.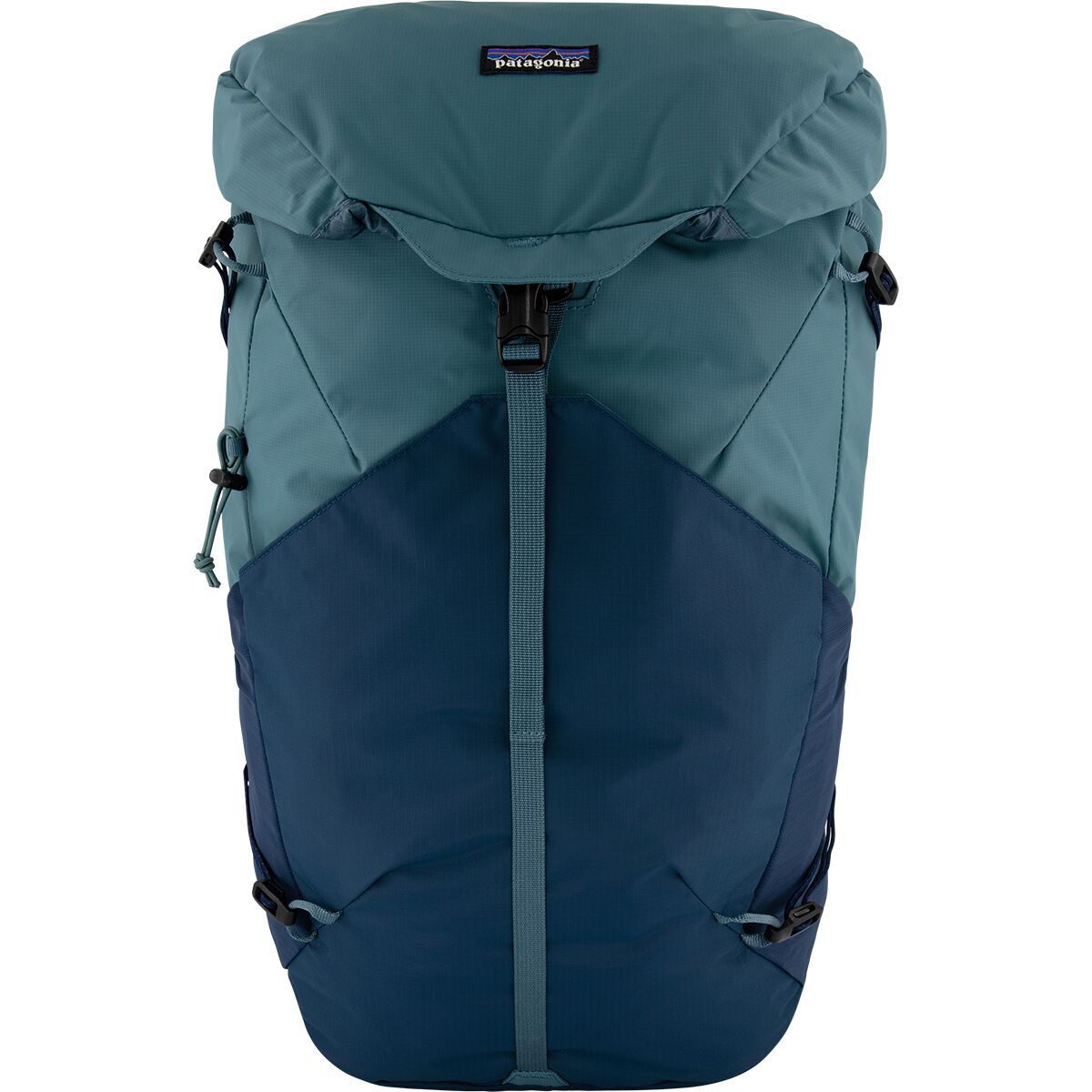 How many plastic bottles are recycled? Unspecified, the interior lining is made of 100% recycled polyester and the exterior is made of 100% recycled nylon.
Patagonia has been a leader in outdoor gear and clothing for more than 20 years. They are currently at the forefront of sustainability in fast fashion, as the majority of their clothing line is made using recycled materials and organic cotton. A large percentage of their products are also Fair Trade Sewn.
---
How many plastic bottles are recycled? Unspecified
Ecogear makes environmentally friendly packs for hiking, hydration and traveling. The company was launched in California with an eco-conscious initiative, aiming to provide durable backpacks with a low environmental impact.
The bags are constructed with REPREVE fiber, which comes from plastic bottles. Different styles are designed for various activities, with perfectly placed pockets and water bottle holders.
---
HAMILTON PERKINS BAGS MADE FROM RECYCLED PLASTIC
How many plastic bottles are recycled? One bag = about 17.5 bottles
Hamilton Perkins makes Earth-friendly bags and accessories in Virginia. The company partners with organizations to collect the waste materials to create its products. Like other slow fashion brands, it produces batches in limited quantities to diminish production waste.
Each bag is unique and contains pineapple leaf fiber, plastic water bottles and repurposed billboard vinyl. The vinyl acts as the liner and may contain pictures and text from the original billboard. The rPET exterior makes for a water-resistant bag that's practical for everyday use.
---
CHICO BAGS MADE FROM RECYCLED PLASTIC
How many plastic bottles are recycled? Unspecified
ChicoBag has always set forth to replace disposable grocery bags. Like water bottles, plastic retail bags are a top-ten beach litter item. The company has a longstanding relationship with its manufacturing plants in China and Cambodia, which are required to maintain sustainability standards. California-based ChicoBag is a certified Climate Neutral and B Corporation. It also has a Category C license with the Fair Labor Association.
ChicoBag has created a travel pack that's collapsible. It's designed to tote in your purse or car and be used when you need it. Using the travel pack can prevent consumers from using up to 300 grocery bags each. All of the fabric on the bag is made from REPREVE fibers. The company has also partnered with 99Bridges to develop a reusable smart shopping bag that provides people with rewards for using it.
---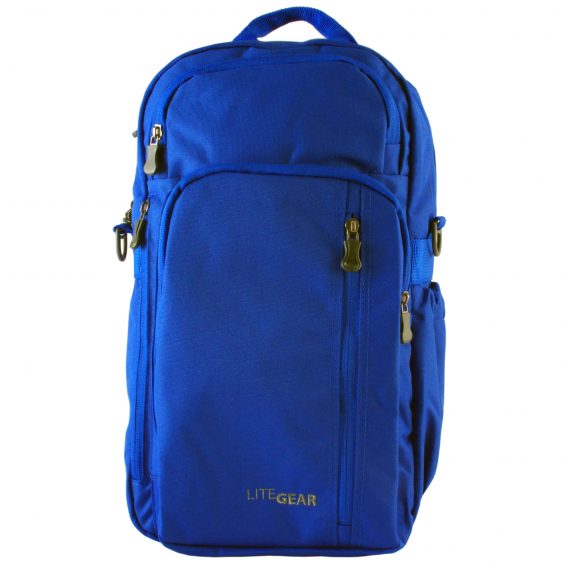 LITEGEAR BAGS MADE FROM RECYCLED PLASTIC
How many plastic bottles are recycled? The company has recycled more than 1.4 million plastic bottles so far.
LiteGear is created by LifeGear Designs in California. Its lightweight but rugged bags are made with rPET and beneficial to travelers and the planet. Many of the luggage pieces are designed for airplane travel. Others are suited for the great outdoors. Because the bags are so lightweight, travelers can fill them with more personal items before maxing out airline weight limits. The company makes a wide variety of styles to help you get and stay organized on the road.
---
How many plastic bottles are recycled? Unspecified.
Alchemy Goods is one of those recycled bag brands that uses a variety of up-cycled materials. The company repurposes items such as bicycle inner tubes, marketing banners and old seatbelts.
Alchemy Goods is based in Washington and makes all of its products in the U.S. It has also launched a recycling program for bicycle tires.
The bags are sleek, waterproof and easy to clean. They're convenient for people who are on the go, and they help keep waste out of landfills.
---
How many plastic bottles are recycled? A 3-piece packing cube set = 10 plastic bottles
EcoTex packing cubes are made by Heys America, a company with headquarters in Canada. The company has offices in the U.S., China, Germany and Korea and makes high-quality luggage. Although the company's primary mission is not sustainability, it does make some environmentally conscious items.
EcoTex packing cubes are water-repellent, zippered pouches that help you organize your items when you're traveling. Three different sizes are perfect for containing all of your gear.
---
How many plastic bottles are recycled? Unspecified.
Green Guru was developed by outdoor enthusiasts who wanted to reduce their negative impact on the environment. The company upcycles other adventure equipment, such as wet suits, camping tents, climbing rope, bike tubes and billboard materials to keep them out of our oceans and landfills. It makes all of its products in its Boulder, CO, facility. The company is B-Corp certified and has earned gold level status with the Colorado Environmental Leadership Program.
Most of Green Guru's products are weatherproof. They should protect your items from light rain, wind and snow. They're designed to maximize function.
---
How many plastic bottles are recycled? Unspecified
Colorado-headquartered Eagle Creek makes bags, organizers and accessories with sustainable design, responsible manufacturing, human rights and eco-friendly practices in mind. Its products are made with recycled materials and Bluesign-approved fabrics. All of the company's polyester fabrics will be made of at least 50% recycled fiber by 2023.
The Cordura fabric used in these products is made of reclaimed fabric waste. Some Eagle Creek bags are even made of recycled windshields. They're extremely versatile and covered in pockets and accessories to make life easier. Plus, the lifetime warranty and bag repair service keeps items out of landfills.
---
The problem with plastic
Close to 270 million tons of trash is generated by American households each year. 300,000 tons of that garbage doesn't make it to the landfill or recycling center – It ends up in our rivers, lakes, beaches, forests and sidewalks. In fact, the 10 most common types of trash that are found in nature contain PET plastic.
Brands that make workout gear from recycled plastic convert plastic waste material into recycled polyester fiber. This "slow fashion" technique helps to reuse materials that still have value, redirect trash from landfills and waterways, while also reducing the amount of plastic waste in the natural environment. Other types of trash such as bicycle inner tubes and fishing nets can be transformed into shoe soles or backpacks.
How plastic becomes polyester
Polyester makes up more than 50% of the world's clothing. But traditional polyester is made of PET plastic, the most prevalent kind of plastic in the world. New plastic is created every day to make polyester.
But recycled plastic bottles can be melted down and spun into fine, flexible, soft fibers that get a new life as clothing and accessories. After the labels are removed, the water bottles are chopped into tiny flakes, washed and purified. The plastic undergoes a polymerization process, which transforms it into rPET pellets. Those can be melted, stretched and spun into yarn.
Brands that make workout gear from recycled plastic use polyester derived from recycled plastic, also known as rPET. This is sourced by reclaiming discarded plastic garbage from the ocean and landfills. Approximately 40 water bottles can become a winter jacket. Over the past four years, retailers have increased their use of rPET by about 36%. Recycled bag brands and sustainable clothing brands are repurposing plastic for retail products and furthering awareness of the importance of sustainable projects.
Final Thoughts
Fixing the problem we currently have with plastic pollution will require completely banning or significantly reducing the use of plastic. However, until governments, corporations and consumers around the world reach this collective realization, we must create innovative solutions to alleviate the problems.
In addition to brands that make workout gear from recycled plastic, consumers can also find hoodies made from recycled materials, mittens made from recycled materials, and just about everything in between from fair trade brands that use recycled polyester to make eco clothing.
When considering whether or not to purchase products from brands that make workout gear from recycled plastic, you must also take "microplastics" into consideration. Although reclaiming plastic from the ocean and landfills is helpful in terms of not creating new plastic, the process does have some ecologically problematic issues.
While water bottles litter our beaches and oceans, microplastics comprise at least 30% of the plastics that are polluting our oceans. These are tiny fibers that shed from products that are made with PET plastic—whether it's recycled or not. The microfilaments break off of polyester clothing in the wash and end up in wastewater.
A microfiber filter attaches to your washer and prevents those microscopic plastics from leaching into wastewater. If you use recycled clothing and wash recycled polyester fabrics, you might want to invest in the Microfiber Filter, Filtrol, Organic Lifestyle Washing Machine Filter or Cora Ball to do your part for the planet.
If you like this article, check out other products made from recycled plastic, including mittens made from recycled materials and hoodies made from recycled materials.