In today's world, pretty much everyone is familiar with the idea of organically grown food, but not everyone is up to date on ethical fashion or organic, sustainable clothing brands.   Sustainable clothing brands, vegan clothing brands and vegan sneaker brands popularity are rising, and for good reason.
What are sustainable clothing brands?
By "sustainable clothing brands" we mean fashion companies that create clothing in an eco-friendly and socially ethical manner.
Sustainable clothing brands pay their workers a living wage, provide safe and regulated work environments, prohibit the use of toxic chemicals, and significantly reduce the use of water and energy during the production process.
Sustainable fashion brands manufacture and distribute clothing in a manner that is non toxic, eco-friendly and supportive of the labor rights and wages of workers all along the supply chain.
Sustainable clothing brands for children are particularly important because these clothes do not contain toxic chemicals and dyes which can be harmful to your child's health over the long term.
What makes clothing sustainable?
Sustainable fashion is also "organic" because it prohibits the use of toxics chemicals and dyes. This is particularly important for children's clothing.
"Organic" simply means a product does not contain pesticides, chemicals or GMOs. Cotton in particular if often grown with lots of pesticides. Those harmful chemicals and pesticides aren't just going into the initial cotton plants; they're sinking into the soil and being washed out to other water sources. Clothing that is 100% Certified Organic Cotton will be made with organic fibers free of toxic elements.
If it's important for us to not consume toxic chemicals, it should also be important to not drape them on our skin all day, every day. Particularly the still delicate skin of our babies and children.
Sustainable clothing brands for children
Sustainable clothing is linked to overall environmentally friendly and socially ethical practices that should be more prevalent in all industries. This is known as "Fair Trade" and these practices ensure that people involved along the entire manufacturing supply chain have safe working conditions, livable wages, no child labor, and no exposure to harsh chemicals.
We researched some of the best sustainable clothing brands for children, and what they're doing to alleviate their footprint on the ecosystem and better people's lives.
---
Tentree demonstrates its sustainability bona fides by planting ten trees each time you purchase one item. In addition, all of their products are made from organic, chemical-free, non-toxic fibers.
It's an ideal brand for children because the clothing is soft, warm and snuggly.
Certifications:
100% Organic Cotton
Worldwide Responsible Accredited Production (WRAP) Certified
Business for Social Compliance Initiative Certified (BSCI)
SA8000 Auditing Standard and Certification Certified
Fair Trade Certified
Fair Wear Foundation Certified
---
Based in Boulder, Colorado, Pact emphasizes soft outfits with a spritely style and humor that's perfect for play, school, or snuggling into bed.
Their organic products for kids and infants include pajamas, dresses, underwear and socks. It's an ideal spot to find everything you need in one place.
The designs themselves are happy and playful with bright colors and bold patterns. With a mission to build "Earth's Favorite Clothing Company," Pact takes their business's planet-wide impact seriously.
Partnering with an eco-tech group, their site offers the opportunity to calculate the carbon footprint of each shipment based on the contents and physical traveling distance.
This means that with each purchase, we as consumers can know the exact price for balancing out our own influence on the ecosystem and can donate to offset it accordingly.
Plus, their shipments use sustainable materials, including 100% post-consumer recycled paper envelopes, 98% post-consumer recycled cardboard boxes, and biodegradable plastic bags to protect items during the journey.
On the humanity side, the Give Back Box is Pact's donation program that aims to recycle used clothes and shipping boxes.
Certifications:
Global Organic Textile Standard (GOTS) Certified Fibers
Certified 100% Organic Cotton
Fair Trade Certified
---
With clothes from Winter Water Factory, you know you're getting highly unique fabric designs in addition to sustainable wear. Cocreator Stefanie Lynen designs the company's signature textile prints, which range from bold to whimsical, vibrantly bright to soothing.
Her captivating work encompasses a myriad of subject choices: animals, garden vegetables, trees, fairies, athletes, castles, and dinosaurs, just to name a few.
Lynen's designs are striking and unique, with just the right blend of modern graphics and vintage patterns, all manufactured with 100% organic cotton. Their site also presents a wide range of apparel for both infants and children, offering a bunch of opportunities to snag all your favorite prints.
Winter Water Factory prides itself on being community based and oriented. Products are made in the U.S. to keep jobs in the area and, when possible, in their own local community.
All cutting and sewing takes place in the owners' neighborhood of Sunset Park in Brooklyn, New York. Keeping production in the U.S. also reassures both the company and buyers of fair business practices and working conditions.
Keeping production in one centralized location cuts down on general waste as well.
Certifications:
Global Organic Textile Standard (GOTS) Certified Fibers
100% Organic Cotton
---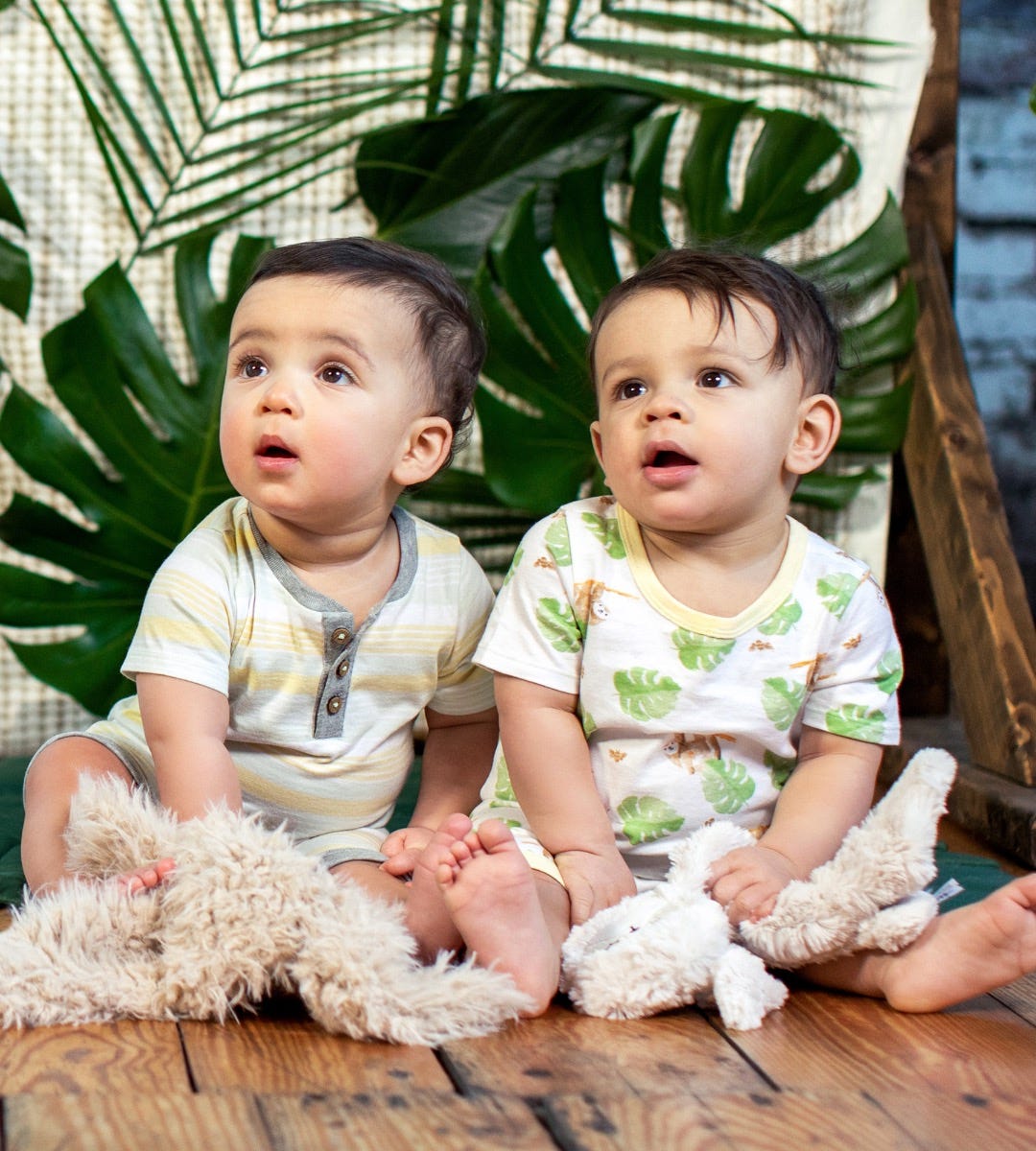 Burt's Bees Baby focuses on giving little ones soothing sleep in the softest outfits. The company focuses on how delicate and easily irritated a baby's skin can be, and designs clothing accordingly.  Not only will babies need comfortable pajamas for nighttime, but they sleep a lot during the day too.
Burt's Bees makes a variety of organic cotton baby clothes: bodysuits, coveralls, bibs, and even wearable blankets. Their goal is to make parents' lives a little easier by providing cozy, non-irritating materials that protect babies' skin.
Unsurprisingly, Burt's Bees baby clothes come in adorable, gentle patterns with soft, muted colors for sleepwear and more vivid selections for play outfits.
Dyes and print techniques are GOTS regulated to ensure no harsh chemicals are used. Additionally, the buttons and thread are developed from recycled polyester.
Reusing smartly and effectively is key for Burt's Bees. The company promotes efforts to support children and parents with their Baby Bee Box program. For every Baby Bee Box sold (an incredible baby shower gift with three months of newborn essentials included), the company gives back to youngsters in need through a program called Save the Children.
Certifications:
Global Organic Textile Standard (GOTS) Certified Fibers
Certified 100% Organic Cotton
---
Jackalo emphasizes making built-to-last clothes that withstand time and hard play. Designed and made in Europe, their goal isn't just comfort but also durable fashion. As they say, "Buying less, buying better, making it last."
Jackalo understands that clothing has both an environment and financial impact. Therefore, the company aims to make items that can be passed down. This spares families financially while also sparing the ecosystem.
Founded by a mother, frustrated by clothes that ended up in the trash as completely unwearable within months, Jackalo apparel is specifically crafted for kids to grow, play hard, and still be able to pass a good quality item on when they can't wear it anymore.
Colors are more subdued, and styles are basic and primarily unisex to encourage future sharing. Most garments are meant to be slightly loose fitting for play, but it's suggested to go slightly larger, so clothes last longer for each child.
This company is all about cutting down on waste. Not only do they require sustainable farming practices, but they aim for energy-efficient factories and recycle whenever they can.
They have set cutting practices to use the most material possible, attempt to reuse scrap fabric when viable, and offer discounts on new purchases when customers return Jackalo items for either repair or up-cycling.
Certifications:
Global Organic Textile Standard (GOTS) Certified Fibers
Certified 100% Organic Cotton
Fair for Life
IVN BEST
---
With an emphasis on sharing, both between ourselves and the planet, Granelito focuses on "quality materials, comfort and bright designs." Collections year-round consistently utilize earth tones in Granelito's delightful, nature-based prints.
Not only are their products ethical fashion, but they also design all apparel to be unisex. This encourages the reuse of clothing since it can be passed easily between all children. The brand doesn't see any reason to categorize attire based on gender.
The founders hope their work provides positive nurturing to the earth and workers, as well as maintaining an open-ended and accepting approach towards gender.
All cotton used in production is 100% organic pima from northern Peru. Known to be more durable, it helps make each garment last longer. All production is based in Peru, where the cut and sew factory works directly with the company in charge of cotton and fabric manufacturing.
With a recent switch to compostable mailers, Granelito continues to become more sustainable whenever the opportunity arises. They welcome suggestions for increased sustainability as well.
Certifications:
100% Organic Peruvian Pima Cotton
Eco Packaging Alliance
---
UK-based Little Green Radicals creates sustainable children's wear. The company extends their mission beyond everyday sweaters and leggings with their unique, recycled rainwear and a special knack for eco-friendly outerwear in general.
Accomplished in the art of waterproof jackets, coveralls, and gear for children playing in rain or snow, their garments are snug and splashed with eye-catching colors and patterns for kids.
As one of the first companies in the UK to achieve Fairtrade certification, they quickly understood it was a more expensive process for obtaining cotton, but it meant better lives for everyone else along the way.
Little Green Radicals focuses on organic cotton for health reasons, but not solely for our children's sake. Since early on in the growth of sustainable practices, they've cared deeply about the health of farmers, animals, the soil, and keeping water sources uncontaminated.
The brand founder recognizes that how we go about making a product is just as important as what we make, especially in regards to eco influence.
Certifications:
Fair Trade Certified
Certified 100% Organic Cotton
Global Organic Textile Standard (GOTS) Certified Fibers
---
Open since 2005 and based in Bordeaux, France, La Queue du Chat has its own manifesto listed on their site stating that the company was "created for the well-being of children." Everything about them radiates joy and a sense of humor for approaching the world, and their brand designs are no different.
The label brings a vibrant, quirky style they refer to as "mischievous" and "authentic." Their designs include many brightly colored cats in various entertaining and adorable situations.
Collections are split up between Love the Earth, Love the Sea, Garden, and Roll 'N Green for both baby clothing and children's wear.
All products emphasize the outdoors with simple, silly animations that will make any child smile while wearing them. For items with writing, the text alternates between French and English.
With fair trade clothing goals of protecting both people and the environment, the online site includes an entire illustrated list of exactly what's better about ethical fashion over a fast fashion brand.
La Queue du Chat emphasizes the importance of fair pricing for everyone, respecting both farmers and artists, and ensuring the world of our children's future will be one to smile at.
Certifications:
Global Organic Textile Standard (GOTS) Certified Fibers
Certified 100% Organic
Fairtrade Cotton Standard
Fairtrade Textile Standard
SA8000 Standard
Worldwide Responsible Accredited Production (WRAP) Certified
---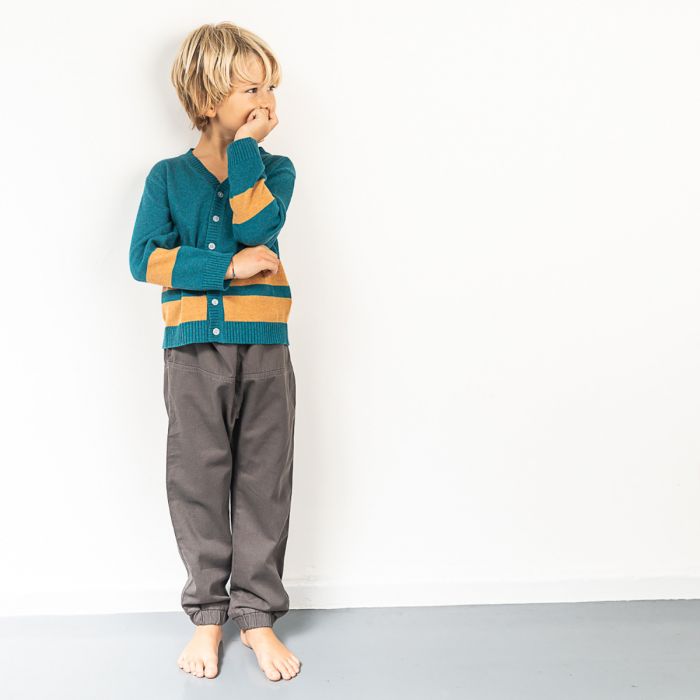 Sense Organics' assortment of solid colors, traditional patterns, and old-school embroidery are intended to be mixed and matched—to endearing effect. Everything can be layered, and there's a wide range of comfortable clothing with enough give for adventuring while still looking favorable for nicer occasions.
Their organic cotton baby clothes includes everything from wearable sleeping bags to knit dungarees.
A German-based company, they're considered to be one of the pioneers of organic textile manufacturing.
Established in 1996, their objective is to always respect the environment, nature, and people by producing and trading organic baby clothes and children's wear.
Their designs are now in boutiques and department stores around the world. Sense Organics also makes an effort to contribute to social projects such as Barefoot College International, Barefoot Enriche and Wind Energy.
Certifications:
Global Organic Textile Standard (GOTS) Certified Fibers
Certified 100% Organic Cotton
Fair Trade Certified Cotton
SA8000 Certified Workplace
---
Aimed more at teenagers than young kids, Kings of Indigo is always looking into the future of sustainability.
Founder Tony Tonnaer has been creating sustainable denim for the last seventeen years. His company's focus is innovation and forward thinking, bent on making better and more earth-friendly products.
The list of sustainable materials used in their fashion is extensive. Reduction of their planet impact is presented in their Five Pillars of Sustainability: planet friendly materials, water use, social responsibility, transport, and waste conscious.
Kings of Indigo's designs are subtle yet chic. They focus on well-made basics you can wear to anything and for anything by mixing and matching. Flexibility for their products is their game. Based in Amsterdam, their fashion style is American and Japanese inspired. Plus, they have some awesome patches to sew onto children's denim jeans or jackets.
Certifications:
Global Organic Textile Standard (GOTS) Certified Fibers
Certified 100% Organic
Fair Wear Foundation
Recycled, Natural Materials
PETA-Approved Vegan
---
The founder of The Good Tee brand, Adila Cokar, realized that even within the organic cotton industry, suicide rates were going up for farmers in India.
Middlemen were running down prices, underpaying, and making the industry continue to be exceedingly difficult even with organic certification. Wanting a business that celebrated the workers and honesty about product development, The Good Tee was born.
The Good Tee isn't a traditional fair trade clothing store. This brand produces a range of staple cotton shirt designs to primarily be sold wholesale for other companies. These wholesale purchasers must have similar views and goals about sustainability and humanizing the fashion industry.
It is possible, however, to order blank shirts for individuals, and you can add a natural dye kit with eco friendly dyes for your purchase.
There are also a few extra options for organic baby clothes. Whatever you end up ordering, you can rest assured it was responsibly made with complete transparency and sustainable materials.
Certifications:
Global Organic Textile Standard (GOTS) Certified Fibers
Certified 100% Organic
Fair Trade Certified
FLOCERT
B-Corporation Certified
---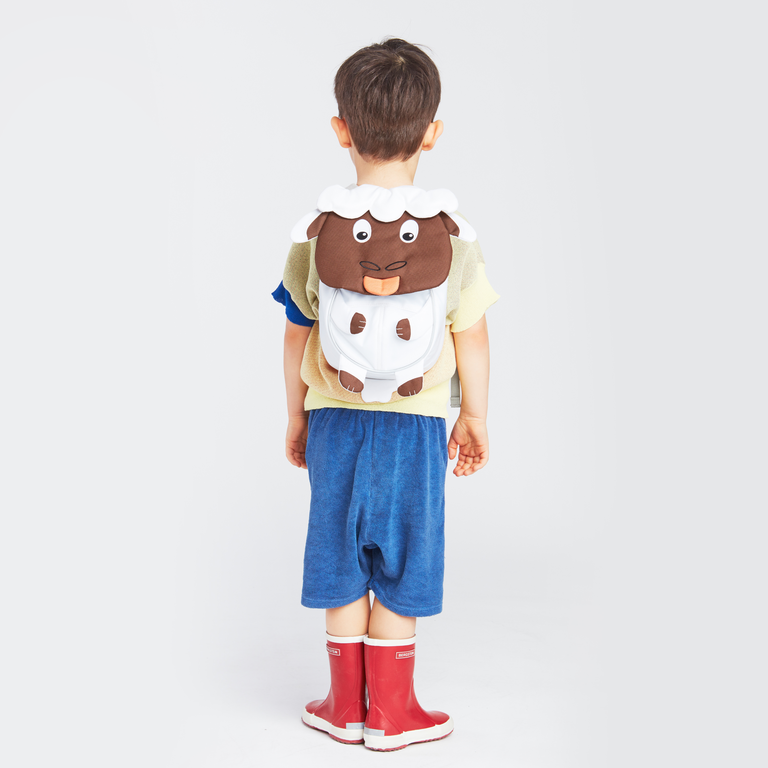 Rather than focusing on clothing, Affenzahn is known for its sustainable accessories. Twenty-eight lovably unique animals can be transformed into a backpack, bucket hat, boots, scarf, face mask, or other cute items to finish off your child's fashionable flair.
Every animal has a story and comes from a different part of the world. Affenzahn not only emphasizes being fair and eco-friendly, they also encourage play and imagination in everyday fashion items.
A part of the larger sustainable German bag brand called FOND OF, 50% of their backpack material is made from PET plastic water bottles woven into thread.
Being part of the Fair Wear Foundation means that consumers can be certain the factory workers in Myanmar and Vietnam are getting fair wages, reasonable working hours, and safe conditions with zero child labor.
Certifications:
BlueSign System Partner
Green Button Certification
Fair Wear Leader
---
Looking to deliver "the finest sustainable fashion for kids," Infantium Victoria provides couture sustainable clothing options for children and infants.
The company's creates elegant, well-made luxury pieces that continue to push the limits of contemporary kid's fashion. Their style lends a nod to romance and nostalgia, but with an added twist of fun.
Patterns are handmade in Belgium, and all suppliers are listed directly on their website as well as the materials within each product. They make honesty in their sustainability efforts a major element of their business model.
Alongside a traceable supply chain and complete transparency about products and social responsibility, the company is also dedicated to being entirely cruelty free and has been PETA-Approved VEGAN since 2015.
Certifications:
Global Organic Textile Standard (GOTS) Certified Fibers
100% Organic Cotton
PETA-Approved Vegan
---
Fun and magical, Little Emperor designs are based on seasonal collections meant to inspire the imagination and encourage little dreamers. Their tagline "come play" is genuinely meant, with the label itself being inspired by the founder's daughter.
Going into spring brings the Sea Dancer collection with everything from "dreaming whales" to "playful penguins." Their core motive is to bring happiness and positivity to children, the earth, and every person that takes part in each item's development.
Partnering with companies regularly audited by Sedex ensures continuous improvement in ethical performance for the factory workers both in Australia and abroad. Plus, they've teamed up with a renewable energy provider for their main design office.
Plastic is avoided at all costs. Packaging is minimal, with the garment packed inside a mini pillowcase keepsake and tags printed on 100% recycled paper with vegetable-based ink. The actual mailing containers are now biodegradable as well.
In an effort to eliminate waste as much as possible, the workers hold on to fabric scraps to sew blankets. To further their goals, Little Emperor is part of 1% for the Planet. Members of this group donate 1% of all sales to environmental nonprofits.
Certifications:
Global Organic Textile Standard (GOTS) Certified Fibers
Certified 100% Organic
1% For the Planet Member
---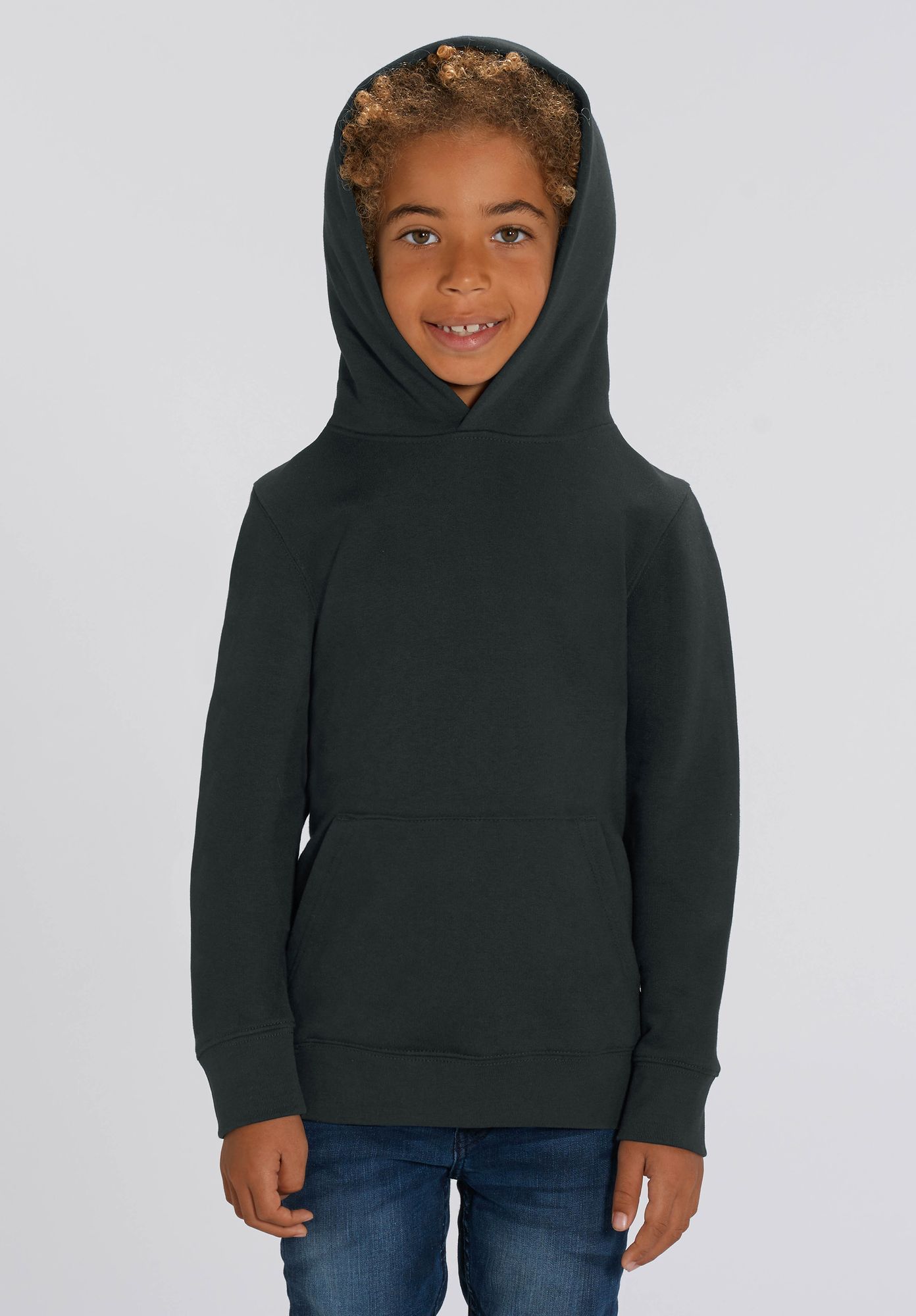 Boasting fair trade clothing with attitude and a fair pricing policy, ThokkThokk aims to make sustainable clothing accessible to everyone.
The company collaborates with renowned artists from around the world to expand the brand's minimalistic graphics and block colors with more playful, intricate prints.
ThokkThokk has also inspired other fashion labels to join them in the movement to make ethical, organic clothing available to as many people as possible.
This led to brands Fellherz and Lovjoi becoming part of the family and turning the once one-man-screen-printing business into the ThokkThokk Marketplace.
Not only does ThokkThokk emphasize their use of organic fabric made with cotton, but they've also invested in incorporating other eco-friendly alternatives, namely TENCEL, Kapok, and various recycled materials.
TENCEL is a vegan cellulose fiber made from wood and old cotton that would otherwise be trashed. The Lyocell and Modal fibers created through their processes are certified compostable and biodegradable, making everything part of nature's normal, cyclical process.
Kapok fiber comes from the tropical Kapok tree and is similar to down feathers. Super soft and light, it's naturally water-repellent, antimicrobial, and hypoallergenic.
ThokkThokk's other fabrics are made resistant and durable by recycling and refashioning old plastic bottles or used fishing nets.
All the company's warehouse production sites are listed on their website for transparency so consumers know where the products originate.
Certifications:
Global Organic Textile Standard (GOTS) Certified Fibers
Certified Organic Cotton
Fair Trade Certified
PETA-Approved Vegan
Global Recycled Standard
NGO SAVE
---
---
Kiwiana are the iconic elements, items, symbols, and quirky generalizations about New Zealand. Earthlings sustainable baby clothing and kidswear is all about Kiwiana inspiration. Based in New Zealand, everything is designed and made in-country with soft, organic cotton.
Garment hue selections are often nature oriented, as are the graphics and patterns. Fantails, Pohutukawa (New Zealand Christmas tree) flowers, and tropical leaves are continual favorites for prints and patterns. Sizes for this brand range from newborn baby clothing to ten years.
Earthlings began after founder Hannah Shone started having her own earthlings and became a mother. Soon enough, she wanted fashion for them that would be free of toxic chemicals and pesticides, so she started her own ethical fashion line using sustainable materials.
Eventually taken over by another mom with fashion design experience, Emma Hall, the goal continues to be reducing both waste and the prevalence of the fast fashion brand. Emma aims to always design garment selections that will be dearly loved and passed down to others.
Certifications:
100% Organic Cotton
100% Fair Trade
Ethical Business Practices
---
Final Thoughts
How do I choose the right sustainable clothing brand for children?
Finding ethical fashion brands isn't as difficult as it once was. There are an abundance of websites promoting these types of companies, from sites like Fair Trade Finder, Good On You, and the B Corp Directory.
Furthermore, current innovations in sustainable materials like organic cotton and recycled polyester created from plastic PET bottles, the sustainable fashion industry continues to grow.
Organic baby and children's clothes in particular are becoming increasingly in-demand as parents avoid harmful chemicals.
Fashion continues to evolve and fashion options become vaster, with more flexibility and opportunities to support social justice, sustainable fashion and the environment.