What are sustainable hoodies?
Fashion companies leave a big environmental footprint. They use a ton of oil to create fabrics like polyester and nylon. This contributes to global warming and pollution.
In addition, millions of plastic bottles are discarded into the oceans on a yearly basis. 
As a result, fashion brands are creating clothing and shoes made from recycled plastic bottles.  While this does not solve the pollution problem, it does help reduce oil consumption and remove some plastic from the oceans.
This process is called "closed loop production" which are techniques to make new goods out recycled materials.
Polyethylene terephthalate (PET) bottles, otherwise known as the common plastic bottle, is the most frequently recycled material used to replace virgin synthetics like polyester.
List of Sustainable Hoodies Brands
Comes in styles for women.
The North Face Mountain Sweatshirt Hoodie is made from recycled polyester and is the perfect companion for sports like hiking, skiing and anything that involves cold, wet weather. It is water resistant, quilted for extra warmth and has warmth-retaining insulation.
Comes in styles for men and women.
The Topo Designs River sustainable hoodie is made from recycled polyester and can be worn alone or as a mid-layer on cold days. It's moisture wicking and odor resistant.
Comes in styles for women.
Marmot's sustainable hoodie is made from recycled polyester and features raglan sleeves, adjustable cowl-neck, and 1 large kangaroo pocket. The fabrics are bluesign approved non-toxic, made without the use of dangerous chemicals.
Comes in styles for men and women.
The Rab Filament Hoodie is a technical-fit fleece made from recycled polyester. The sustainable hoodie is designed to remain dry even with heavy perspiration, rain, and snow. It is ideal for high alpine sports like climbing or backcountry skiing.
Comes in styles for men and women.
Each RicherPoorer recycled fleece hoodie is made from 40% recycled polyester. This equals approximately 40 recycled plastic bottles reclaimed from landfills and oceans.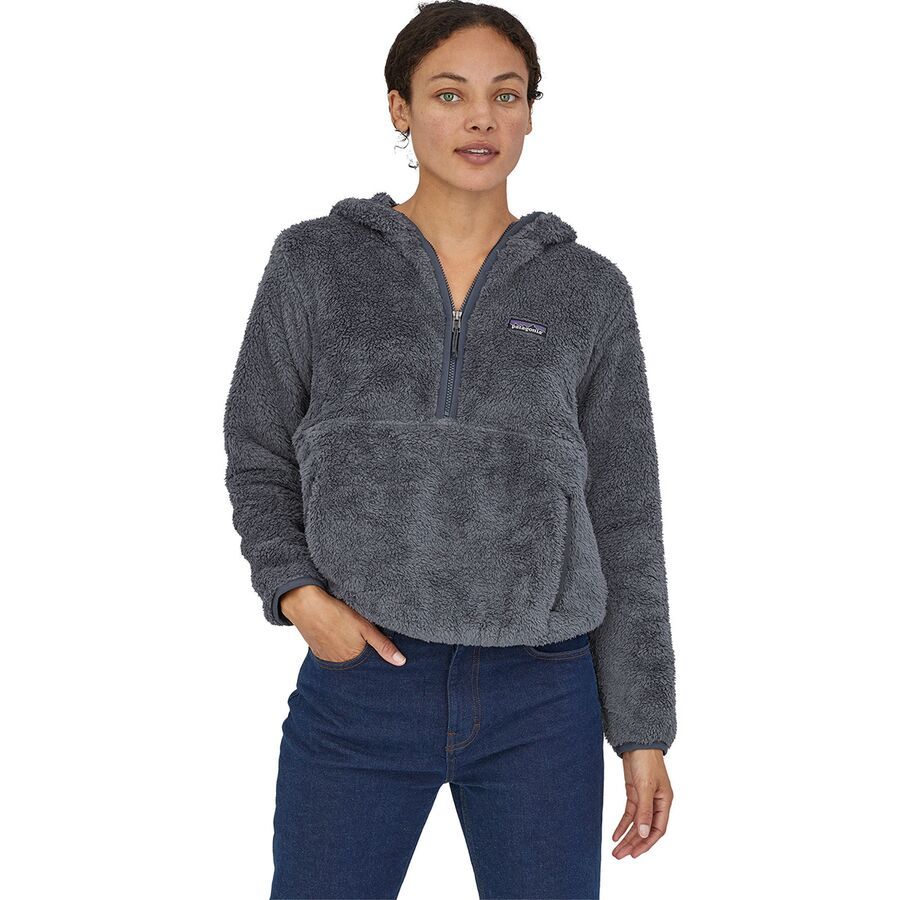 Available in styles for women and men.
The Patagonia Los Gatos sustainable hoodie is made with recycled polyester and contains an average of 30 plastic bottles. The oversized hoodie is soft, warm and sewn in a Fair Trade Certified Factory. It is also bluesign approved and does not contain toxic chemicals or dyes. Patagonia even uses 100% recyclable materials for packaging and shipping.
Comes in styles for men and women.
Coalatree uses an innovative process to convert coffee beans and plastic bottles into fabric.  Each hoodie is made with 60% recycled polyester and 40% coffee grounds, containing an average of 3 cups coffee grounds and 10 plastic bottles per hoodie.
The coffee grounds are melted down and blended with recycled plastic bottles. The result is a hoodie with a non-toxic, odor-resistant, water-repellent, DWR exterior that's excellent for travel and outdoor activities in any weather. Coalatree products are bluesign certified non-toxic.
Coalatree employs a closed loop CO2 vapor system to reuse stored CO2 and reduce water waste in the dyeing process. They also partner with factories that use energy efficient ventilation, and solar lighting.
Available in styles for men and women.
Plant Based Clothing makes vegan hoodies from sustainable materials, comprised of 15% recycled polyester, and 85% organic cotton, with water based, non-toxic dyes.
Inspired by Japanese streetwear culture, this hoodie is made with 100% Certified Organic Cotton and sewn in a Fair Trade certified factory.
Plant Based Clothing is certified by Fair Wear Foundation, WRAP (Worldwide Responsible Accredited Production), Global Organic Textile Standard, and uses OEKO-TEX® Non-Toxic Textiles.
Available in styles for women.
The Tentree soft fleece Burney hoodie is made with 93% recycled polyester and a blend of organic cotton, wood-based TENCEL™ Lyocell and elastane. The hoodie is 100% vegan.
Tentree is a Certified B Corp. The company has eliminated single use packaging, uses FSC certified and 100% recycled paper for tags and inserts, 100% recycled mailers and 100% post-consumer recycled, biodegradable plastic to protect clothing during transit. BDP is added to the plastic to ensure it biodegrades within 2-3 years after disposal.
Tentree also plants a tree for every product purchased. Their hoodies also use an average of 75% less water to produce. Customers can purchase an "Offset Package", which funds initiatives to reduce CO2 emissions.
Available in styles for men and women.
Each Pure Waste sustainable hoodie is 60% recycled cotton, 40% recycled polyester, excess knitting yarn used to make drawstrings.
Pure Waste has the following certifications, Fair Trade Certified, Certified B Corp., Amfori Business Social Compliance Initiative and Supplier Ethical Data Exchange.
The company uses 100% recycled fabrics that would otherwise end up in landfills, 90% of the energy used to power their factory comes from wind power.
Pure Waste is 100% compliant with local and international labor laws, does not employ any underage workers, and offers voluntary paid overtime. Their supply chain is BSCI-audited (Business Social Compliance Initiative), which verifies that fair trade labor policies are enforced.
Available in styles for men and women.
Recover Brands hoodies are made using 100% recycled content – 50% recycled polyester and 50% up-cycled cotton. Recover Brands clothing are 100% vegan.
In order reduce CO2 emissions, Recover sources their recycled PET plastic from within 150 miles of their Charlotte warehouse. Their optimized manufacturing process achieves 66% less energy consumption, 35% less greenhouse gas emissions,  and 55% less water consumption. The company also founded the non-profit "Protect Our Parks" to inspire people to cherish and conserve parks and forests.
Recover Brands' entire supply chain is US based to ensure that basic labor laws are upheld, including minimum wage, safe working environments and hourly work day limits. Recover helps fund co-ops and organizations that create ethical jobs, provide educational opportunities for girls and women, and pay workers living wages.

Comes in styles for men and women.
The Cotopaxi "Do Good" hoodie made with a blend of 60% organic cotton and 40% recycled polyester.
Cotopaxi has the following certifications: Fair Trade Certified, Certified B Corp., Climate Neutral Certified
Cotopaxi donates 1% of its revenue each year to a non-profit working to improve the quality of life and alleviate property for specific groups of people. Past funds have included working to eradicate Malaria in Latin America to providing small business loans for Columbian and Venezuelan refugees.
Available in styles for men and women.
Pangaia hoodies are made is Global Organic Textile Standard (GOTS) certified organic cotton. Their entire product line is 100% vegan.
Comes in styles for women.
Pact's hoodie is made with GOTS certified organic cotton. It features a vintage design with thick drawstrings, rib cuffs, and lightweight fleece.
Available in styles for men and women.
Organic Basics' sustainable hoodie is made with 100% GOTS certified organic cotton. It is "Vegan Approved" by PETA.
Available in styles for women.
This hoodie by Scotch & Soda is made with 49% Polyester /45% Modal /6% Elastane. Features dropped shoulders, balloon sleeves with ribbed cuffs.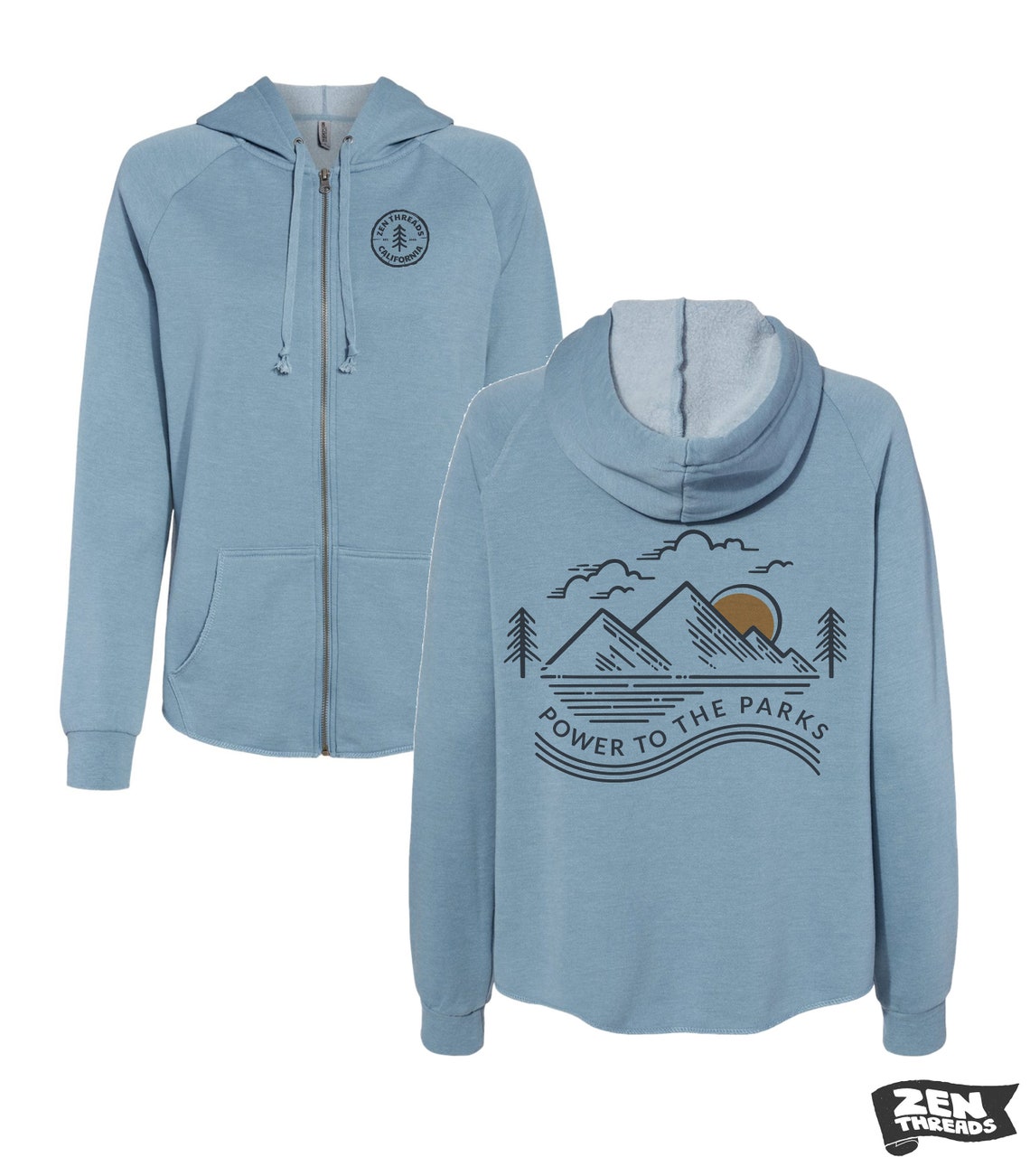 Available in styles for men and women.
Zen Threads' eco fleece hoodie is constructed with a tri-blend fabric made from recycled and organic materials, including cotton and recycled polyester.
The company hand crafts all its products, and uses non-toxic, eco, water-based inks that are safe for the environment.
Zen Studios adheres to US and California laws regarding labor, wages and workplace safety.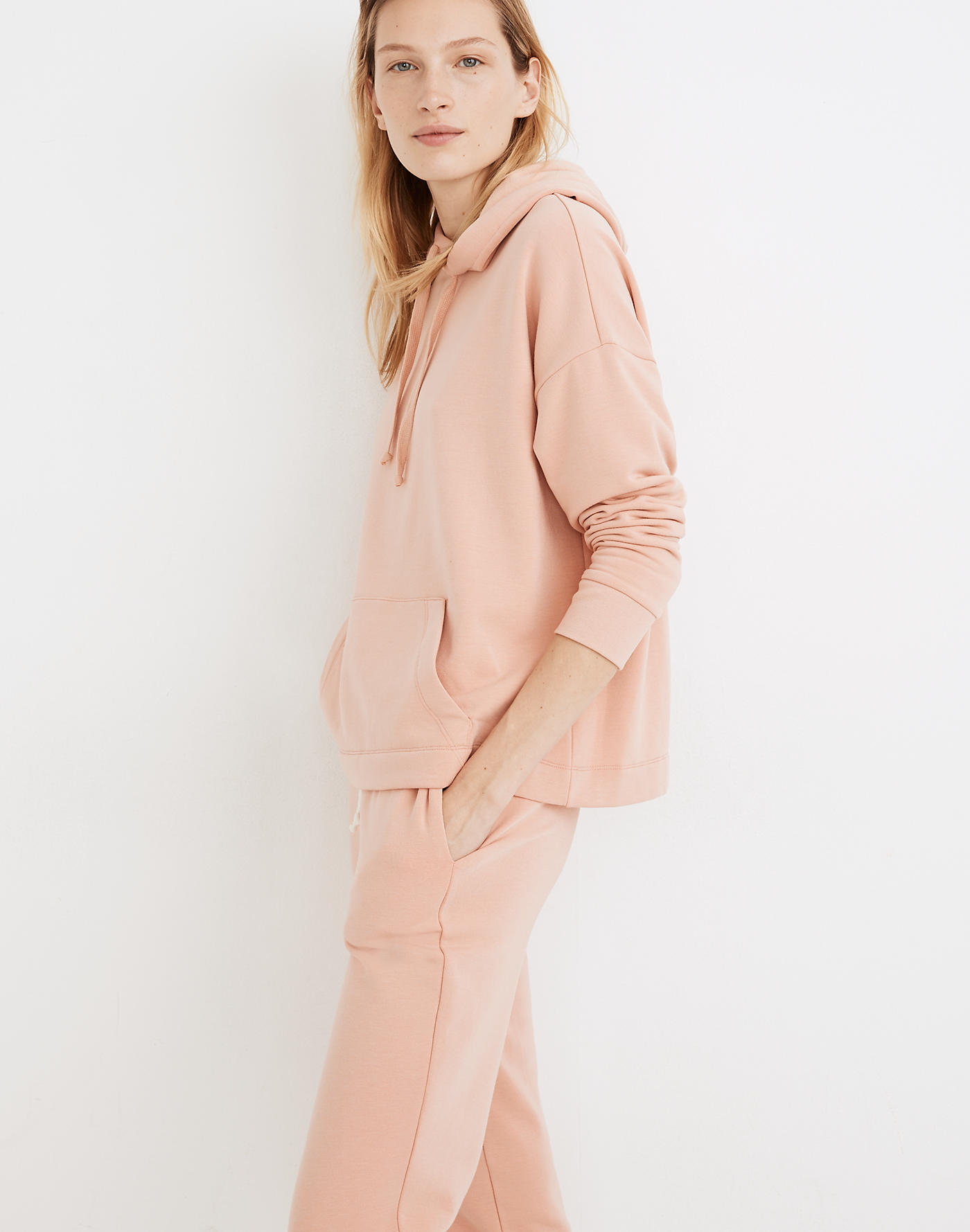 Available in styles for women.
Madewell's hoodie is constructed with 66% TENCEL™ Modal®, 28% REPREVE® recycled polyester and 6% spandex. This extra soft, super brushed terry fabric only available at Madewell.
Why are hoodies made from recycled materials?
Closed loop production systems recycle discarded materials to make new products. This is done to reduce the amount of trash in the ocean and in landfills. A variety of sustainable products are useful for recycling, including mittens made from recycled materials and brands that make sustainable workout gear made from recycled plastic.
Polyester is particularly polluting because it is made from melted down PET plastic pellets. Unfortunately, polyester is also widely used to make hoodies.
According to the UN Environment Program, 380 million tons of plastic are produced each year and one million plastic bottles are purchased around the world each minute. If we keep up this pace, there will be more plastic than fish in the ocean by 2050.
The clothing industry is working to alleviate this problem by using recycled polyester derived from PET plastic to create new clothing – called rPET. This fabric is created by gathering plastic bottles (typically from the ocean), and reusing these pellets to create polyester fiber. Creating clothing from recycled materials is also more energy efficient. According to the clothing brand Pure Waste, hoodies made from discarded and/or recycled materials use an average of 99% less water and 50% fewer CO2 emissions. [1] In this article we explore sustainable clothing brands that are using a beloved fashion staple – the iconic hoodie – as a vehicle for recycling.  We delve into innovative ways people are creating cool new hoodies made from recycled materials.
Final Thoughts
Humans are creating trash at an unprecedented rate. If we keep up this pace, there will be more trash on the planet than anything else. Fair Trade Finder provides recommendations on everything from workout gear made from recycled plastic to mittens made from recycled sweaters. While these efforts are not nearly enough to solve the problem (that will require humans to stop creating new plastic), they are positive trends which at a minimum do not create additional trash. As we continuously create new products, we simultaneously throw away old products no longer deemed useful. However, a lot of what we consider to be trash can actually be recycled and reused to create brand new products. This both reduces the volume of trash entering our environment while also satisfying the need to consume. Innovative companies are employing a variety of techniques to offset the negative consequences of fast fashion. Sustainable fashion companies are recycling plastic bottles, cotton, fleece, discarded bicycle inner tubes, insulation and fishing nets into textile materials like polyester and rubber, and using organic waste like apple, mushroom, pineapple and cork to create alternatives to animal-based leather and suede. In many ways, this is a key component to sustainable living, as the fundamental goal is to consume trash to create new products, thereby decreasing the environmental impact of production and consumption. [2]
Gender:

 Women
Location: Australia
Shipping: Worldwide
Certifications: Global Organic Textile Standard
Materials: Locally sourced, certified organic fabrics.
Vegan: Yes

Sustainable Features:

 All items are produced at the family-owned facilities in Brisbane, Australia. This ensures a living wage and safe workplace conditions.
Price Range: $100 – $200
Gender:

 Men, Women
Location: United States
Shipping: Worldwide
Certifications: Remake Approved, Global Organic Textile Standard, B Corp, Fair Trade Certified, Open Apparel Registry
Materials: In 2020 Patagonia transitioned to the Nano Puff® 100% recycled PrimaLoft® Insulation with P.U.R.E™ textile — reducing CO2 emissions by 510,000 pounds annually. 

Sustainable Features:

 Patagonia has a self-imposed 1% tax for the Planet to support environmental nonprofits.
Price Range: $90 – $300
Gender:

 Men, Women
Location: Denmark
Shipping: Worldwide
Certifications: OEKO-TEX® Non-Toxic Textiles
Materials: Environmentally Friendly Dyes and 100% organic cotton.
Vegan: No, the company uses Merino Wool in some products.

Sustainable Features:

 The company's workforce is based in Portugal and operates under European Union Labour Law, which ensures a high level of workplace safety and that all employees receive a living wage.
Price Range: $35 – $100
Gender: Men, Women
Location: Germany
Shipping: Europe
Certifications: Global Organic Textile Standard
Materials: Organic, vegan fabrics
Vegan: Yes, certified by PETA

Sustainable Features:

 The company employs equitable labor practices and ensures all receive a living wage.
Price Range: $15 – $100 (prices in euros)
Gender: Men, Women
Location: Germany
Shipping: Europe
Certifications: Global Organic Textile Standard
Materials: Organic fabrics
Vegan: Yes

Sustainable Features:

 the company's production is in the European Union and has a Code of Conduct that includes some of the ILO Four Fundamental Freedoms.
Price Range: $30 – $300 (prices in euros)
Gender: Men, Women
Location: France
Shipping: Worldwide
Certifications: B Corp., Fair Wear Foundation
Materials: 100% recycled, organic or ethically sourced materials.
Vegan: Yes
Sustainable Features: The company produces 84% of their products from 2 factories – one in China and one in Turkey. The founders regularly visit the facilities, and workplace safety is evaluated by third party organizations.
Price Range: $50 – $300 (prices in euros)