Disclosure: This website contains affiliate links. When you click on these links and make a purchase, we may earn a commission at no additional cost to you. Our goal is to provide valuable information and recommendations to assist you in making informed decisions. However, please understand that we only recommend products or services that we genuinely believe in and have either used ourselves or extensively researched.
Sneaker lovers looking for a low-key, neutral color are naturally attracted to tan sneakers and shoes.  The muted, earthy tones of tan and beige are versatile and can be worn in a variety of styles. Tan looks great with casual jeans or with formal office clothes.
In addition to being tan, our collection of tan sneakers are sustainably made using environmentally friendly, plant-based materials like hemp, wool and TENCEL.
---
brands that make tan sneakers
---
New Zealand-based Allbirds is an eco-friendly shoe company that creates high-performance sneakers designed to be durable, lightweight and completely biodegradable. They are also a Certified B corporation, which means that they support fair trade policies including paying workers all along their supply chain a living wage and using environmentally production processes.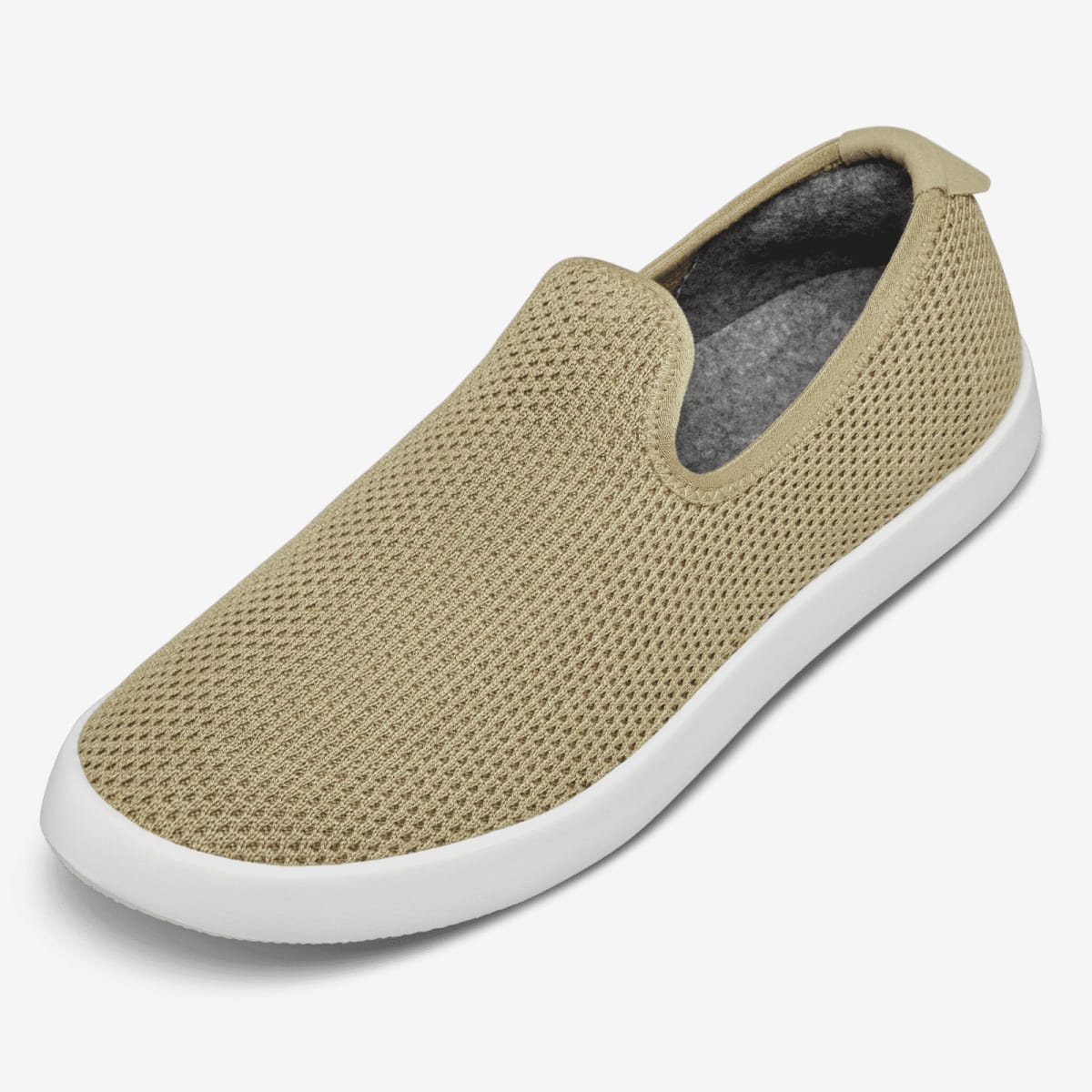 Materials:

TENCEL™ upper, natural rubber outsole.

Special features:

Slip-on, breathable fabric, odor resistant.

Category:

Walking

Carbon Emissions:

7.6 kg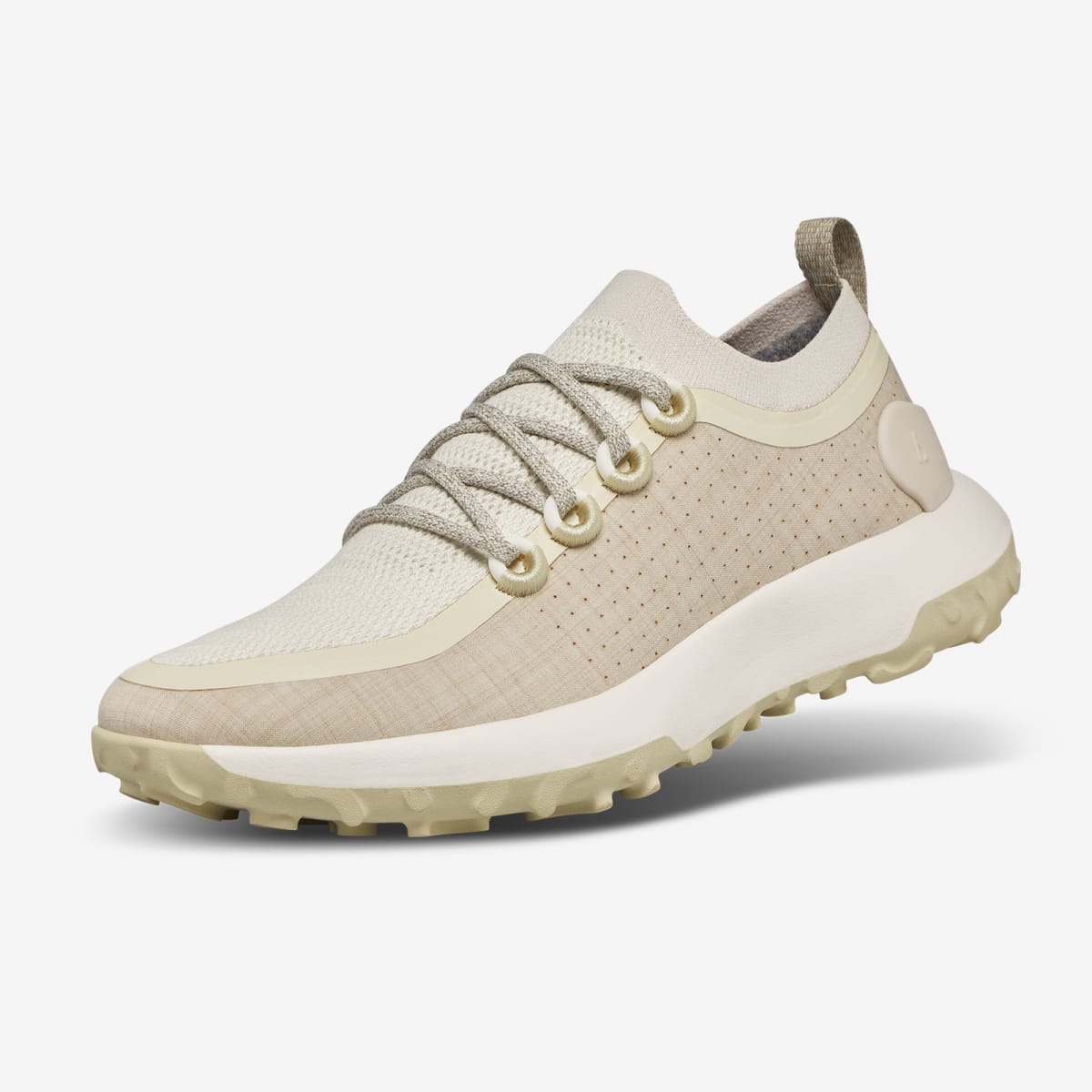 Materials:

Upper made from TENCEL™ sourced from eucalyptus tree fiber, midsole made from plant based green EVA, outsole made of natural rubber, shoe laces made with recycled polyester.

Special features:

Machine Washable.

Category:

Walking, running

Carbon Emissions:

16.3 kg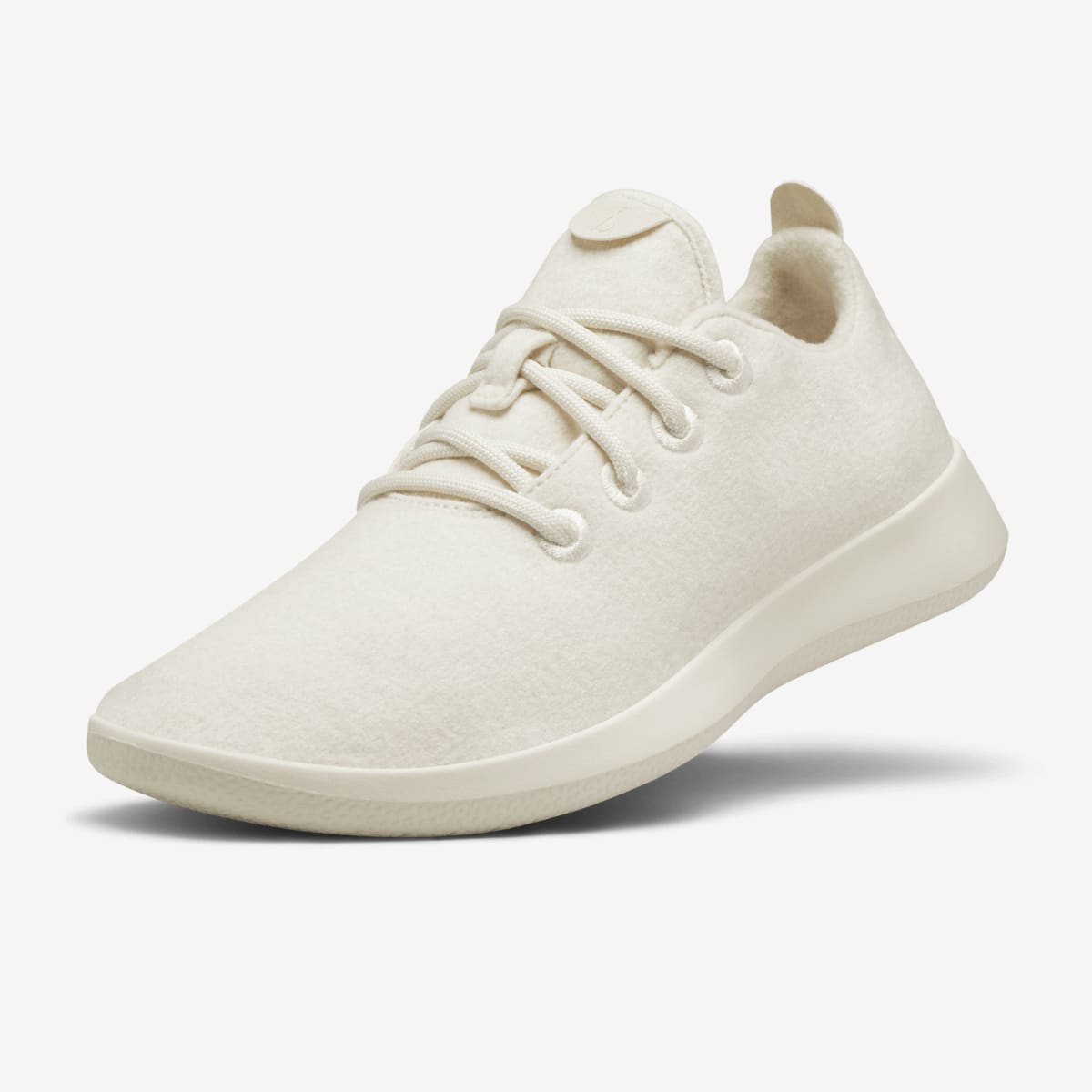 Materials:

Upper made from 100% cruelty-free Merino wool, natural rubber outsole.

Special features: Odor-resistant, machine washable.
Category: Walking
Carbon Emissions: 9.9 kg
---
Based in France, Saola's main focus as a shoe manufacturer is to divert plastic from oceans and transform it into vegan, sustainable footwear. The sneakers are durable, antibacterial and biodegradable.
Their shoes are 100% vegan and have an upper body made from PET plastic bottles spun into recycled polyester. The soles are comprised of cork and rubber made from BLOOM algae and shoe laces made of organic cotton.
Soala has a wide and diverse collection of sustainable tan sneakers.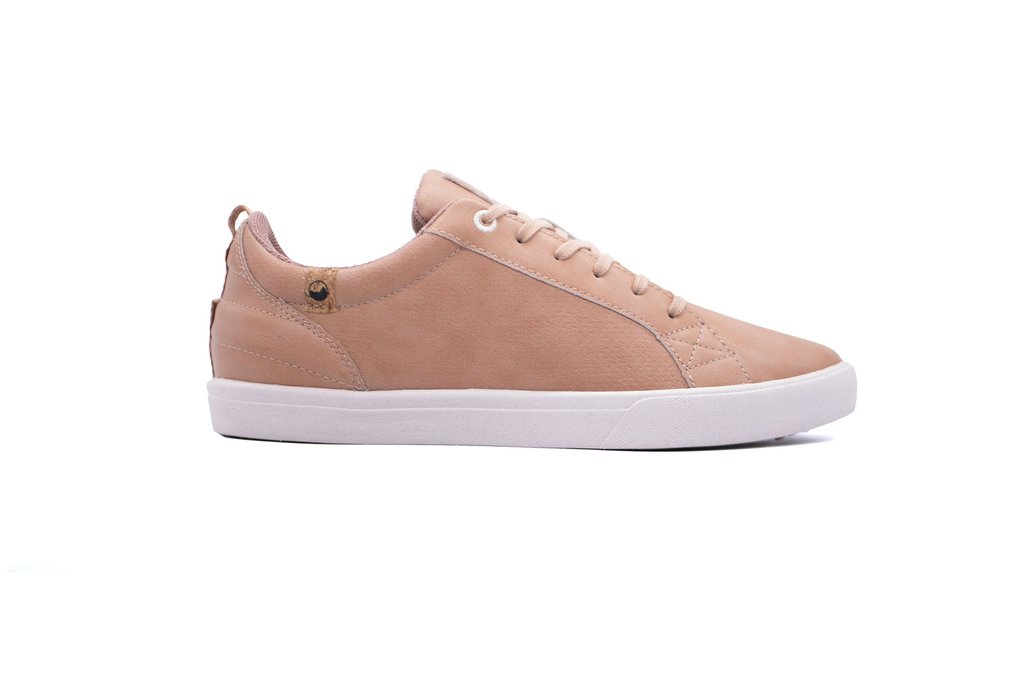 ---
8000Kicks makes vegan sneakers out of hemp fabric. Hemp is naturally antibacterial, water resistant and repels odor. The sneaker is also biodegradable, ensuring that it does not have toxic additives that live on beyond the life of the shoe.
Materials:

Upper made from 100% hemp, outsole made from plant-based soles.

Special Features:

100% vegan, hemp is anti-microbial, anti-bacterial, and water resistant.

Category:

Walking, hiking, running.
---
Colorado-based Lems creates shoes designed to fit your foot like a glove. Their minimalist approach to footwear strives to eliminate unnecessary elements and deliver a shoe with the essentials that you need.  The zero heel drop technology also aids in good posture by placing your heels and toe on the same level. 
Materials:

EVA midsole, suede microfiber upper, 

Special Features:

Wide toe box for additional space and movement, rubber outsole, low heel drop to promote healthy posture.

Category:

Walking, hiking, running.
---
ANATOMY OF A SNEAKER
There are four major components in a sneaker that we will refer to:
Upper – The top and sides of the sneaker, typically made of fabric like wool, TENCEL or recycled polyester.
Midsole – The thick, soft middle of the sneaker, below the upper and above outsole. This part of the shoe absorbs impact and supports your back and spine.
Outsole – This is the bottom portion of the sneaker that touches the ground – it is typically made of rubber.
Insole – The interior of the sneaker that touches your foot – this is usually made of fabric.
TAN SNEAKERS COLOR PALETTE
The tan sneakers in this collection are a range of colors and tones. As stated in Wikipedia, tan is derivative of the color brown. Tan is a popular choice in fashion because of it is versatile and matches a wide range of colors, including black, white, yellow, green and teal.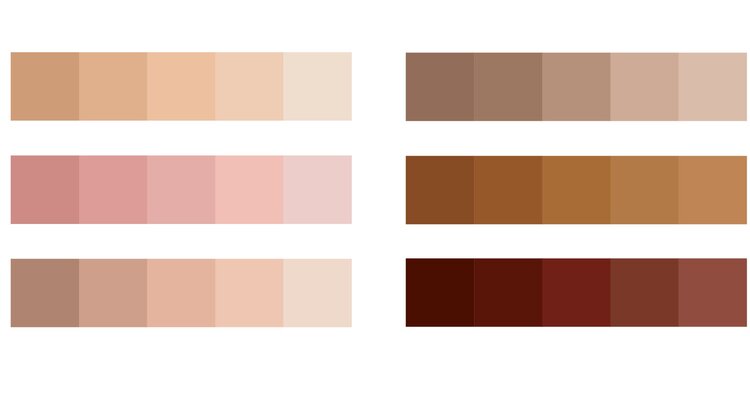 TAN SNEAKERS AND SUSTAINABILITY
When possible, we track the carbon footprint of these tan sneaker to understand how much pollution is created in its production. A regular sneaker typically produces 14.0 kg of carbon during its lifetime. The sneakers in our list average 7 kg – 9 kg of carbon emissions, making them 50% – 60% less polluting than the average sneaker.
Final Thoughts
Sneakers are one of the most toxic fashion products because, among other issues, one pair can take up to 1,000 years to decompose in a landfill. "Fast fashion" sneakers are also made using toxic, harmful chemicals which are dispersed into the environment both when the sneakers are created and disposed of.
Therefore, it is important to buy sustainable sneakers made from plant-based, biodegradable materials by companies that utilize environmentally conscious manufacturing techniques.
If you like this article check out our list of the best vegan sneakers and fair trade shoe brands for women