Bernie Sanders arguably was the biggest attraction at Joe Biden's presidential inauguration on Wednesday January 2021.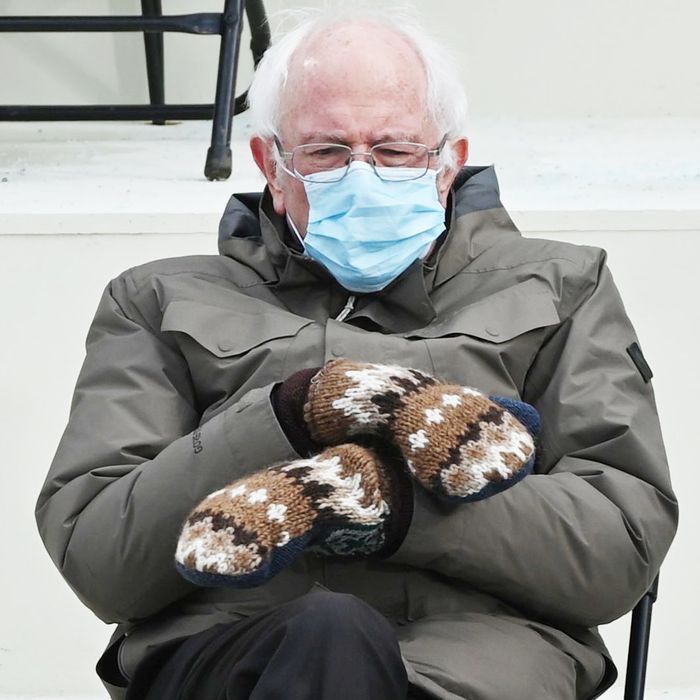 Bernie Mittens have completely taken over the internet – at least temporarily.
The reason for Bernie's recent meme-god fame and notoriety is not a result of his political ideology.  This, in spite of the fact that he was tweeting about the need for Healthcare for All and a national $15 per hour minimum wage throughout the inauguration ceremony.
The stars of the show were "Bernie Mittens". Mittens made of recycled sweaters and plastic PET bottles, also known as "Smittens" or "Swittens" – part mittens, part sweater.
The statement made by the gloves made from recycled materials captured the hearts and imagination of the world.  
These mittens represent the core ideas and values that we hold dear at Fair Trade Finder – sustainable fashion, circular design and support of local business and artists.
We have written extensively on similar topics, such as the top sustainable clothings brands and the best vegan sneakers.
Bernie is an outspoken champion of blue collar, working class people and is also one of the green new deal's biggest proponents. 
He was gifted the mittens five years ago by a local Vermont school teacher named Jen Ellis, and started wearing them about 2 years ago when he returned to the presidential campaign trail.
Ellis, a second grade teacher from Essex Junction Vermont, handcrafts the gloves out of repurposed wool sweaters, with lining made from recycled plastic bottles.
She has received thousands of requests for the gloves since the inauguration, after people found an old Tweet she made over a year ago saying that she had extra inventory.
Sadly, Ellis is completely out of stock of the sweater mittens and does not plan to make more.  However, there are a number of awesome Smitten and Switten makers on Etsy that we will highlight below.
The 10 best makers of Bernie Mittens recycled sweater mitten makers on Etsy
Albert Lea, Minnesota
Recycled Sweater Mittens, Fleece-lined mittens, Upcycled Sweater Wool Mittens
Sturgeon Bay, Wisconsin
Nordic Sweater Mittens, Wool Mittens Fleece Liner, Upcycled Wool Sweater Mittens